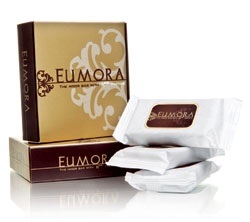 Eumora soap bar sells a package of 4 for $179 Singapore dollars. 
I know what you're thinking. Pears glycerin soap is about $1.79 per bar. Run to the pharmacy and call it a day? Why is Eumora so special?
Disodiumlauryl Sulfosuccinate & Sodium Coco-Sulfate & Triticum Vulgare (Wheat) Starch & 1-Octadecamol & Parafin & C17789, Heilmoor Clay, Water, Olea Fruit Oil, Chamomillia Matricaria (Chamomile) Extract, Olive Oil, Isopropyl Myristate, Aqua & Glycerin & Algae Extract & Polglucoronic Acid.
If that's all Greek to you:
Disodiumlauryl Sulfosuccinate is a de-greasing, emulsifier, and foaming agent used in many shampoos and other beauty cleansing products. The molecules are larger and cannot penetrate the skin therefore it is considered to be gentle, even on sensitive skin.
Heilmoor Clay;
 honestly I found mixed reviews on the web but I only look at professional views. The most common theme was that the clay was healing and mattifying. Healing and mattifying qualities are what you need for those suffering from acne and/or oily skin. I, however, have sensitive skin that can be reactive when I try new products. This Eumora bar... Nothing but good vibes! I feel at times a bubbling sensation that reminds me of the
oxygen facial that Madonna loves
.
They do say that the bar can replace all of your beauty products as it's an all-in-one. Claiming: cleansing, brightening, healing, lightens eye bags, lifting and firming. I do still use some of my regular products but this has been my cleanser for a while now.
If you want to look up the rest of the ingredients Paula's Choice is a great place to start and don't forget about the must-have Think Dirty beauty app!
This is me after I washed my hair with the Eumora Spa bar, different than the Eumora Soap bar. I am not an oopma-loompa, it's my crappy lighting and if I fixed the colors with my junior editing skills my red hair looked like the unred. ;)
This is is me day 2 of NOT washing it again taken with window light. I was able to curl it and create fabulous volume with my hair. I know you're thinking 'what is this sorcery from a veteran hairstylist?!' But you can drop the sarcasm.
Since living in Singapore for the past 6 out of 7 years living abroad, I've been forced to shampoo daily - which I hate. Shampooing daily strips your natural oils from your scalp and hair therefore, your scalp can get irritated, your hair can get dry, and in some cases frizzy. You are forced to blowdry your hair otherwise the humidity will get to it and your hair will appear lifeless. Is this you and your hair? I'm telling you, for the sake of fabulous hair, you NEED this Eumora Spa bar. When the Eumora people wanted to send me their products for review I said that  I review things honestly. They encouraged it.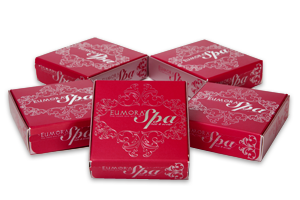 Clearly they know their products are amazing. No word of a lie, it's that good. I can go days without washing my hair - which I prefer for hair health, my scalp is no longer irritated and any hairfall has been minimized and if that can be said by a licensed hairstylist of 25 years, you know it's worth the price of $189 for a package of 4 bars. Told ya there's a hefty price tag. Go on, you're worth it!
UPDATE: Eumora will be launching a sampling program watch for it here.