[please refresh the title if you don't see a video above here]
"You know, British is the most fanciest place on Earth!"
This said to me by Zoie after I taught her that British people drink tea 'pinkies up'
Every little girl who is familiar with
Eloise at The Plaza
romanticizes about living in a hotel. Heck, I romanticize about living in a hotel. (Yup,
heck
; I have to keep it PG this week.) But, if you aren't able to reside in a hotel the next best thing is a fancy high tea. Zoie and I visited 10Scotts at the Grand Hyatt for just that.
It's a lovely mix of free flow savories and sweets. 
"Pretty much this whole thing is dessert" according to stuff Zoie says. 
Balancing your cheesecake is tough. 
The art of the clotted cream and jam being mastered. True clotted cream comes from a specific region in England but the Hyatt did a pretty darn good dupe!
Success! 
According to Zoie this is how we test our hot chocolate to make sure it has cooled enough to drink. *sigh* you can lead a kid to hot chocolate... 
Interest was perked at the mention of an edible flower cake, so the chef sent one out for Zoie to try. 
"Girls that are older put their hair to the side" Really?! Lol.
She might be right actually. 
"My favorite thing is coming here and spending time with mommy" 
Now THAT is why a great gift for Mother's Day is an afternoon tea! 
FYI, the quotes are truly unedited and what
Stuff Zoie Says
.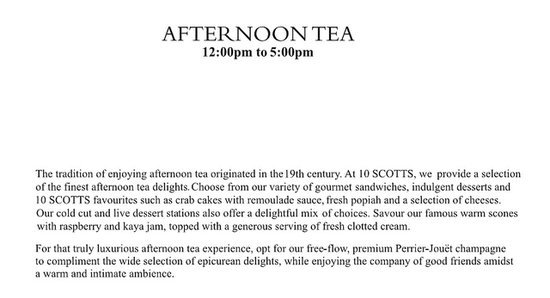 Thank you to
10Scotts at the Grand Hyatt
for hosting Zoie and I for high tea.
Mother's Day Brunch
is approaching! Don't forget to book in! And Moms will all receive a special gift from the
Grand Hyatt
as well, one complimentary bottle of champagne to each mother who dines with us in
mezza9 for Brunch on the 11th of May
!!