A little add-on 2 weeks after my original posting.... 
I posted this piece for a few days then unpublished it. I was thinking:
'Did I over-share??' Probably.
'Will people think I'm promoting plastic surgery?' Maybe. For sure those who missed the point... and the trolls of the internet. 
There were other wild thoughts from the head of Andrea Claire...
But then I had a client sit in my hair chair and part way through her appointment she says 'Oh! I read your blog all the time!' [me a sheepish 'thanks!' as my mind reflects on my latest posts and rants] She tells me how she loved this post [I had unpublished it by this time], how real it was and how it's nice to hear from a real person who shares a lot of what our age group thinks about. So I decided, that if one person reads this or any other overly personal rant I have and feels better about their inner thoughts, fears and just feels like they have a voice with a common-ish ground... well... I had to put it back out there. So here it is... judge or feel a sigh of relief. I'm ok with either... just leave any troll-y thoughts to yourself and watch Aristocats for that lesson... 'If you can't say something nice...'
And so here it is, the original post about my belly...
______________________________________________
There is one thing I can honestly say about myself: I am an over-sharer. I have no filter and frequently catch myself revealing Too Much Information.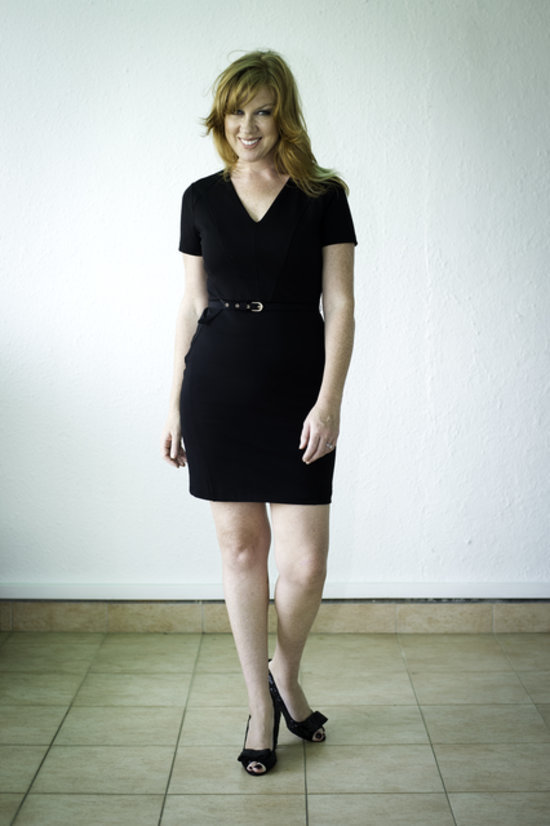 photo by Zurina Bryant 

I have an 'I'm an open book' personality as well as I am in the fashion/entertainment industry. It's a world of 'look at me'. It's not wrong, but, I do feel it's put me in a bad habit of talking about myself. Honestly, it's not horrible for many reasons, one being, our industry is gossipy; I do make it hard for anyone to accuse me of gossiping since my hot topic is, well: me.
Being fabulous is exhausting. I kid.
And on the subject of being fabulous and TMI let me share with you my most recent adventure: a hernia repair paired with a tummy tuck. Yup. I tried to fight vanity, vanity won. How Smurfy.
If you have been following my blog then you would know that I relocated with my daughters to Singapore in 2007 after I remarried. During the honeymoon stages of my fairy tale life I had a baby and then got bit by a mosquito that gave me chikungunya - it's become my Aedes aegypti heel. From 2008 to now, I've suffered the after effects that doctors say is officially an autoimmune disease with similar symptoms to arthritis, thus, reactive arthritis limiting my ability to work out. Wah wah. Boo hoo. Poor Andrea Claire.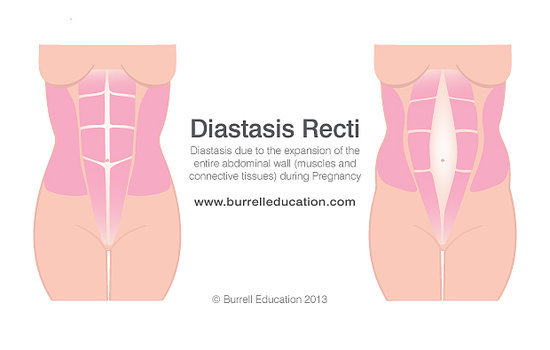 Before I move on to the dramatic fold - let me tell you something that you may or may not have known. Larger babies, repeated births and multiple births can result in a diastasis recti; the muscle wall separates! What can this mean? Well, the muscle wall is there to protect your abdomen and organs. There are risks depending on the degree of separation, for example: the smallest of separations can trap a piece of your intestine causing it to strangulate resulting in potential emergency surgery. Of course add in the esthetic, the degree of separation dictates the bulge that leaves you puzzled as to why you can't get rid of it. Not only had I not heard about this throughout my pregnancies, but not even during high school health classes nor prenatal classes; not one professional felt the urge to share this info.
I discovered this hernia post-babies, post-mozzie illness, post-relocation to Asia where everyone is body conscious (and not really in a healthy manner) post-40 and post- some 4 year old calling me fat on set of a fashion editorial shoot. Self-doubt and insecurities were not invented in Asia but the general criticism on appearance here doesn't help. Reformer Pilates was my latest working out venture that was easy on my joints that I managed to do consistently for six months and although my GP confirmed that the muscle wall closed a little, it wasn't enough. I have succumbed to the knife. But I do feel that for me, it was a necessary evil vanity. Well, there are medical reasons too but because it's a man's world and the insurance companies make manly decisions they consider this elective surgery. I BET that if it were men fighting the battle of the organ bulge (not the one they think with) , this surgery would be compulsory. 
___
I woke up from my surgical slumber, anesthetist hovering over me and at my feet lay a plastic jar. She called to the nurses, scolding them to remove it, apologizing to me. I asked what it was, she replied with some words I don't remember but BEHOLD it was my old belly button surrounded by the flesh that was cut away.
Like driving by a train wreck, I had to see it... 
The anesthetist hesitantly brought it to me which I responded with 'looks like sausages' and immediately returned to sleep. She reminded me of that conversation when I was awake in my room.  Thanks for the reminder forever killing my desire to eat sausages ever again.
As I lay in my hospital bed, day two post hernia/tummy tuck, morphine revoked, popping the equivalent of Tylenol 3s every 6 hours... I said to my lovely surgeon Dr Harry Fok "What the Fok was I thinking" (Let's be honest. I said f*ck.)
I remember cutting a client's hair in Toronto years ago who confided in me that she had a hernia fix / tummy tuck. Said it was the worst pain that she's ever felt, however worth every moment. 
The amount of pain that I was in was beyond anything I could have imagined – popping out mini watermelons from my vagina was less painful. Ok – they were my daughters, not watermelons and all three girls were over 9 lbs! (Bragger)
The nurses asked when I'd like the catheter removed - um, like, NEVER. At that moment lying in bed and peeing into a bag didn't seem all that bad. The thought of rolling over to hoist my new bod out to walk 15 steps to the toilet just didn't seem appealing. Death seemed more appealing at that moment. Drama Queen.
My friend Faz Gaffa  came to visit. I told her the story about the jar and then noticing tucked away in my hospital room corner was a grocery bag that I never had... um, no...!! Was it?... Faz courageously opened the bag... Yes. Behold! The jar with my stomach and sitting pretty as I looked down into it was my old belly button. (I have a photo but maybe here is not the place to put it? Yes? No?)
photo with the scar under my bikini by Zurina Bryant
Now behold my new: origami belly button! I'm sure it's a different method than origami but that's what comes to mind, a kind of paper folding trickery to make a new belly button.
 The decisions to have elective surgery for aesthetic reasons cuts deeper than the knife. Ultimately I decided for me. If you are not your number one reason for making this decision then perhaps you need a session or two with a therapist to help you decipher the real reason; after all you are going to be faced with hip-to-hip scarring that could be a negative or positive reminder – that's all up to you.
Ashley Judd touched on the female competitiveness in the world and sadly, I do see it. A mother's life, working or not; is not full of excuses, couches, bon-bons and daytime dramas. But tales of mistresses with their claws out, threatening that you keep your man happy or else they pounce; painful remarks made of mommy belly hurts down to the (lack of) abdominal core; advertisements selling to the post-baby 35+ using 17-21 year old models to set up false self-expectations and expectations from those who don't know any better. 
After your surgery you will need to wear compression garments. I did try control top underwear but two things: I never realized the stomach muscles involved to pull up control-top girdle undies. THAT HURT like a MOFO! And, if your hernia repair is quite high, the high-waisted band sits at a funny place cutting into the stitches leading to pain and swelling; that was me. The best undergarment that I've found are Design Veronique. There's a zipper along the side so you aren't ripping the muscles you had fixed contorting yourself to get in them and with a French name, they're clearly chic as well.
The running theme of TMI, which I prefer to call 'empowering sharezies', I had a disastrous pelvic floor.  
I swear my bladder was becoming weaker as I aged (#faceof43) and post three children; not once did I ever have an embarrassing moment but I truly felt it became close many times. Thank god I learned where all the toilets in Singapore were situated. Sure, I've done my Kegels... I went to my doctor prior to this hernia repair and she suggested physio - vaginal strengthening is apparently done with some special wand... I asked if it would vibrate. Apparently not. I might have tried physio then...I kid. I'm not a prude but that was just weird to me. She said it would be done by a woman. I think I'd prefer to DIY that at home.
(We need a mommy app to source out toilets globally when we are preggers or dealing with a weak bladder)
Speaking of toilets....
Some of the painkillers you get will cause constipation. If we are old enough for this surgery then you understand what fruits and veggies do. When our diet fails us, I found the best thing to help while I was going number two (having a poo).... Roll up a bath towel to counter any pressure. 
Getting out of bed I found the best way was rolling onto my left side and pushing up from my bedside table.
Scar repair is important. There are many creams and natural remedies. What the Fok said: Stratamed. He did say many women use Bio Oil, vitamin e or even honey; they all work. Honey is a little messy as it is sticky and won't absorb. I found that the Stratamed needed a little time to absorb so that was my opportunity to do the morning beautification process - blowout and makeup while dancing naked.
photo of Zoie and I by Zurina Bryant 
Zoie, who you will find online as #stuffZoiesays, loves to stare at my scar "I love disgusting stuff", she squeals. This is where I dubbed myself Franken-Mommy. Of course my children know I had this surgery. Zoie is six so she understands the six year old version and then I have teenagers who can read. I explained to them the hernia repair, and while one cannot deny the aesthetic value of the tuck, it has vastly improved my physical well-being.
Of course the emotional value is important to address. Some of you may remember me from the W Network's Stylin' Gypsies. After the show aired and we were still in production I remember being called into the editing suite to be shown a freeze frame of me bent over, mixing hair colour and asked if I could do something about *this* - pointing to my belly. Not only was I horrified and defensive but that's not what the show was about. I loved the show because we weren't about 'scalpels and skinny is beautiful'. We were about empowerment. I told them not to shoot me from that angle and stormed out.
Fast forward to me living in Singapore. I did a guest appearance for Tresemme on Asia's Next Top Model. As I was being mic'ed - with the padded mic wrap they do around the waist that any woman with on-camera experience tries to avoid, I was asked by some Australian man on the production if I would prefer the large t-shirt so it would fit better... Through gritted teeth I said that the medium was fine.
I worked as the key hair & makeup artist on another program here in Singapore where the director who had a massive gut made a joke in front of the entire crew, patting his belly and referencing me... WTF is wrong with people anyway?! Where is this ok? No place.
I wrote a piece for xoJane on my experience being called fat by a four year old and why I don't allow the F word in my house. The readers' comments proved to me that it was a failed article. Many said I was denying a valid body type and that I was fat shaming. No. I was not. Fat, according to many readers, was a valid descriptor word. I don't believe it is; and sure maybe because society has given FAT a negative power. My point was trying to express how bullying and shaming was not right and that we need to watch what we teach our children MANNERS. I've heard children in public ask their parents why some stranger is so fat; my children look at me horrified and always say 'that's not nice' because I have taught them to respect others and frankly, that isn't nice.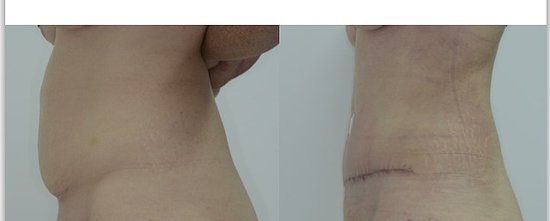 This is before and four weeks post surgery.
So yes, I had my hernia repair (and tummy tuck) because of many factors, some from my own desire and some that included me feeling bullied by people who should have chosen a more constructive method to express… actually, nothing. No one has rights to talk to you about your body unless you came out of their vagina, you married them or they're your medical doctor – perhaps a BFF or two.
Just turning 43, I was doing my best not to crack the 'getting work done' seal and I know it's not for everyone. I stress - do it for you - I'm happy with my choices even though I am still in recovery. I've actually seen many improvements including in my pelvic floor. I'm not dashing to a toilet while focusing on not wetting myself.
FAST FORWARD>>>
I wrote this piece for a Canadian magazine months ago and now I'm posting it here. On me wee blog for my 2.5 readers. I'm still VERY happy with my surgery. I had hip surgery in January too. It's been a tough year in the Andrea Claire bubble.
Yes, there are bigger things in the world than Andrea Claire's tummy melodrama; like human-trafficking... Read how I help fight that battle too.