Over the next few days I will blog a series on my picks for the Best in Beauty 2011!
Starting with hair, these are my selects that I have carefully combed thru and selected. Tried, tested and I use them too!
Intelligent Nutrients Harmonic Shampoo, $22 USD via the company's website.

Intelligent Nutrients Harmonic Conditioner $24.00 USD at Beauty.com
Shampoo and Conditioner so gentle you can use it for daily use. It's very refreshing too with the mint scent and gentle tingling on the scalp. Really great for post-workouts!  Anti-aging, antioxidant rich, volumizing, super smooth, non-frizzy, scalp and hair nourishing, non-toxic and color safe. Formulated without sulfates, parabens, silicones, ethoxylates, PEG, phthalates, and synthetic fragrances. For use on every hair type. The lightweight conditioner leaves hair conditioned, never weighed down or heavy.
Moroccanoil Round Brushes (photo from the Moroccanoil site)
Bye Bye CHI! Sorry the Moroccanoil brushes are a little better. The grip on the hair has better grab resulting in a smoother blowout. I love the hidden tails in the handle that you reverse so when drying you can get a straighter section of hair.
Oribe Hair Care - Supershine Moisturizing Creme - 5 oz $49.00 USD by Oribe at RONROBINSON.com
I triple <3 this moisturizing styling creme. It cuts frizz. It gives great hair ad hair. I've used this on my clients and models with both straight and curly hair. For a nice added texture for subtle extra hold mix in AVEDA Confixor - a great combo for curly hair too! [PS I'll 'refrain from recommending anyone buy AVEDA from Strawberrynet.com' as per the lovely [sarcasm] email I received from AVEDA in Singapore, who by the way has been less than helpful for any of my needs... [and done] AVEDA.com I would also love to honourable mention Oribe's Impermeable Anti-humidity Spray but I can't seem to find a recent link... Dear Oribe: Did you discontinue that? It works wonders on hair in the tropics!!! The KMS Anti-humidity Spray gets runner up but it's a little heavy for fine hair.
Phyto Phytovolume Actif Maximizing Volume Spray - Fine Limp Hair Luxury Size $35.00 USD by Phyto at Sephora
On towel-dried hair, section and spray roots lightly comb thru and blow-dry. There is heat-activated ingredients that help to create voluminous hair. Use with your new Morrocanoil brushes! Need some blow out tips? Check here to blow like a pro!
Whether looking for a matte textured updo or cropped bedhead this is the product for you! This can be used on any hair colour as it goes invisible on the hair. Great for refreshing oily hair before a night on the town.
Oscar Blandi Pronto Dry Styling Heat Protect Spray $22.00 USD  by Oscar Blandi at Sephora
A heat protectant spray that offers 450-degree heat protection and safeguards hair from all hot tools. It's scented with lemon verbena which I love; some models have said they smelled like Pledge after I did their hair. It's ok; I like Pledge too!
Redken Forceful 23 Super Strength Finishing Spray, Maximum Control $18.00$17.10 USD by Redken at drugstore.com
Fast-drying and ultra-clean which means zero white flakes. I love this spray as it gives me the hold I need on set with my models or for my brides 'dos without looking like they are wearing a helmet. You can brush through the hair and restyle it too. BONUS: the lid has a dial that locks the nozzle so when I am travelling I don't get to set with a drained can of hairspray...
Goody Simple Styles: Spin Pin $6.49 USD by Goody at Folica.com
'Spin Pin does the work of 20 bobby pins!' This is the Goody claim and it's so true! One of my fabulous Canadian assistants-turned- artist-in-her-own-right , Sandra Yang so graciously sent me a package with a few Goodies. I have not seen them here yet in Singapore but they should be coming soon [Goody?] You can minimize your bobby pins and create some great styles lickedty-split and boy that's fast! BeautyGeek has some great tips with these too. If you can't find the Spin Pins then check out my updo DIY tips with only 8 bobby pins!
Fascinators may be a little much for every day but a subtle headband vs a statement piece is a great addition to any day or night look.
I may be a little late to be jumping on the hairband bandwagon but I am loving them lately ever since I worked the Melbourne Cup luncheon in Singapore touching up drunk lovely Aussie ladies. [I kid. YES, they were drunk but there were Americans, Kiwis, Brits etc also in attendance.]
Pictured above is a lovely lady I met while at the Melbourne Cup lunch - she made this glorious head piece. [She did her makeup herself too... she was so sweet I couldn't find a subtle way to suggest she soften her lip-liner...] She brought her friend to us at the Luxola sponsored touch-up area exclaiming that she was a makeup artist so didn't need us but claimed her friend did. [I know that sounds bitchy but both ladies were not at all - very sweet, bubbly and full of bubbly. ;) ]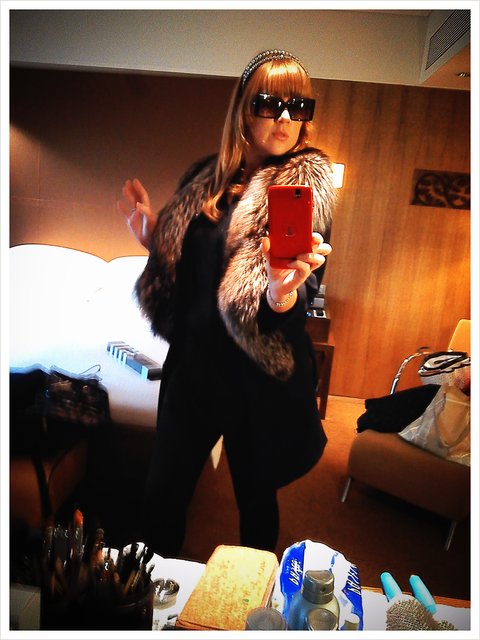 This is me on set for GLAJZ jewelry trying on some Prada and Miu Miu. The headband - Miu Miu. Stunning. I also liked it as it didn't pinch my cranium like most headbands. [I have a big brain] Sobe Jewel has some cute headbands too that are cheap and cheerful, priced in Singapore dollars.
My final hair must-have for 2011:
Yup. That's a toothbrush. Aside from the need to take care of the hair on your teeth... these work GREAT for flyaway hairs and loose hairlines that interfere with posh 'dos. Put a dot of wax on the back of your hand and sweep a toothbrush over the wax and lightly smooth those pesky hairs.
What are your favourite hair products and why?
Coming up: Skincare Faves, Makeup Faves. and Nail Faves... check back!