The makeup artist in me was so excited to be awarded the opportunity to interview Francois Nars, celebrity makeup artist behind the brand: NARS. I was so proud of my list of questions – pride deflated as each journalist in the room was told to limit to one question. Armed and ready, guess who's hand was thrust into the air when we were told there was room for more questions? I was one eager (Canadian) beaver.
I wonder what Freud would have to say about our obsession with Orgasm? Nars' most coveted blush shade is now available as a lip gloss, The Multiple Stick, Illuminator (cream) and Super Orgasm blush. Sure, it's an obvious joke to make: wear Orgasm if you aren't getting one at home – and I have had many opportunities to tongue-in-cheek the famous blusher that I fear that I may have become a bore - but there is more to the man behind making women beautiful with Orgasms. [Sorry – last one]
Nars the photographer? Really this came out of necessity, budgets were to be met and affording top photographers was out of the question. Perhaps Steven Meisel would have offered a little peer discount but when you are surrounded by the best photographers worldwide throughout your makeup artistry career it is like attending a master class in photography. Of course the model/photographer/makeup artist is a symbiotic relationship so transitioning from makeup artist to photographer for Nars was smooth.
"I felt like I had spent enough time with such incredible photographers like Steven Meisel and Richard Avedon -that with all the shoots that I had done I had learned from the best. So I thought I would give it a shot and shoot the [first] campaign myself. I absolutely love photography it's a huge love and passion of mine and to this day I continue to shoot all of the campaigns for Nars." Francois Nars [Obviously NARS would have no budget issues now.]
Retouching? It's so nice to hear how an international artist and brand, Nars feels about Photoshop: "It's overdone." Nars shares that of course when a model shows up with a 3D blemish or red eyes [from catching the red eye] – sure zap it out in post; I agree, and as a woman in the beauty business I understand how we feel when an unattainable goal is thrust in front of us by way of advertising.
Some ads wipe out pores to the point where an alien is staring back at us selling the latest in beauty - who can compete with something so smooth and perfect? Of course youth, amazing makeup and stunning lighting can give you perfection - I think I would look funny wandering the streets with a beauty dish.

Nars Spring 2012 campaign - mascara used: Larger Than Life Lengthening Mascara
NARS retouches only the bare minimum when needed and will never retouch lashes – promises of luscious, layers of lashes to bat with a magic wand; which he says is the telltale where beauty companies think women are lacking in intelligence. He trailed off without mentioning companies – I threw out "Companies like X, Y and Z?" Francois laughs 'Exactly like X, Y and Z'. Knowing that NARS lashes in his ads are the 'models' own' sells me on his mascaras!
Nars has his final stamp on everything – his baby, his vision – obviously a strong vision but Francois is the opposite of what you would expect from an artist behind such a major brand – he is sweet and genuine.

Are you familiar with X-Ray by Francois Nars? A coffee table book that has become such a huge reference and inspiration for makeup artists - well the entire fashion industry references it. It's a classic. The inspiration lay in Francois wanting to transform and play – creating characters and playing with characters – supermodel Shalom Harlow as Snow White – epic. Nars hinted at another similarly themed coffee table book. Yes please!
Roadblocks on the road to success? Creative industries can be challenging and full of roadblocks in the shape of insecure peers. Francois was not without a block or two. Faced with egos and jealousy Francois forged his way to the successful artist he is today with a balanced mix of passion, focus and obsession – and if our 43 minutes with him is any indication - kindness. His advice for up & coming artists? Ignore the negativity that attempts to steer you into a roadblock. Stay focused. "Let passion be your guide."
In a world of beauty do you see any ugliness? Nars talks about how ugliness is not about appearance. "Ugliness is war..." I can't tell you how I try to not add to the thought process of an interviewee. It's like, if my hands were my mouth I would try to sit on them – I wanted to interact more with Mr Nars and his thoughts – add how I agree that ugliness is not about personal appearance but everything he said and more.  Personality can be ugly – I'm sure we can all agree that we have met at least one person in our lives who have lost their attractiveness as soon as they started talking.
The NARS women is beautiful, intelligent and interested in a variety of looks – she may have a signature – Jungle Red lips perhaps?
Quick way to look glamorous? "Lipstick!" Says Nars  In this day of hurried lifestyles some days your best face forward is simply your lipstick - in your favourite shade.
What makes a woman beautiful according to Nars? Love. Being in love and if you aren't in love with someone be in love with NARS, he joked. Francois: that is easily done!
[Read my other piece on Nars that I wrote for InSing.com]
My product pick must-haves: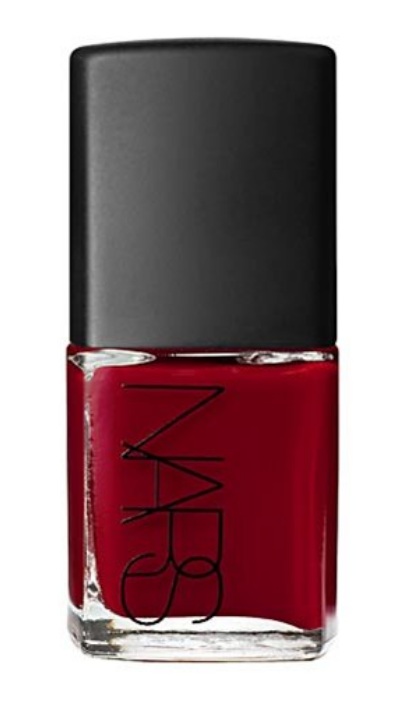 Jungle Red nail varnish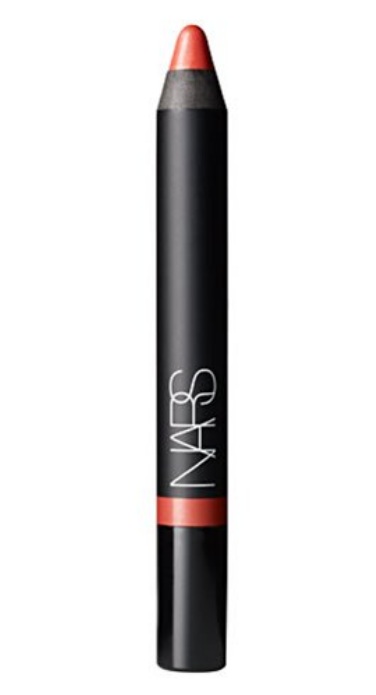 Velvet Lip Pencil in any shade - love them! Pictured is Happy Days

Best of Lips palette

Lamu, The Multiple Stick - a great colour - as a highlighter for darker skin, a contour for medium skin tones and a soft blush for lighter skin tones.