Recently I had the pleasure of doing hair & makeup for Nadya Hutagalung, the host of Asia's Next Top Model. [The pics aren't released yet so I can't show you anything, but dang that girl has got it going on!]
Now, I can bore you with the celebrity cliche of how nice she is. [she is]
I can bore you with the model cliche of how gorgeous and flawless her skin is. [it is]
But for me, I was more intrigued with her commitment to the planet. To life. To living. To her family.
Nadya was telling me about Green School in Bali. Watch the TED video above. John is Canadian just like me, eh. *wink*
Yurt village photo source: GreenSchool.org
The Green School is amazing. No, I do not know first hand yet, but I want to do a family camp there.
The Green School offers a curriculum for full time students who live in Bali BUT they also have week long camping sessions and family camps.
What I don't get is why the International schools in Singapore, who take the kids on interim trips don't go to the Green Camp?? Why haven't they jumped onto this eco-bandwagon? Sarcasm alert: Let's take the expat brats skiing in the Alps or snorkeling in the crystal clear waters in Thailand... Or do they go to Green Camp too and I just haven't heard this tidbit?
"All programs feature a fun mix of experiential and environmental activities, Balinese cultural elements, and for older students, often a soft-adventure component. Please click on the link for more information, and if you know of families or groups who might be interested in participating in Green Camp programs, feel free to send them our way!"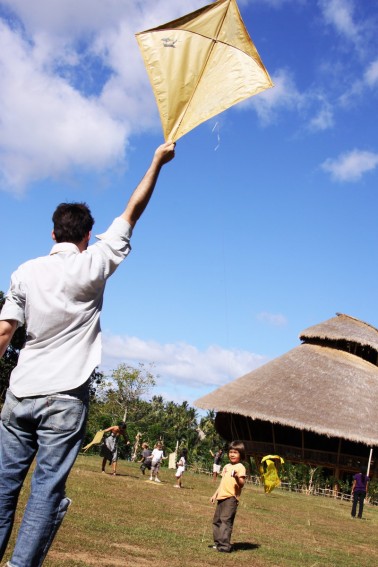 I can't wait to book a weekend family camp with my HB and girls. I am sure the experience would be amazing as well as my Twitter hashtag of #stuffZoiesays will be full of interesting green statements from the veiwpoint of a 4 year old.
"Family Camp is a great way for children and parents to share experiences in nature and enjoy an authentic camp-out in our traditional yurts. Each family will stay in our yurt accommodations complete with bamboo bunk beds. All snacks and meals are included, beginning with dinner on Friday, through to breakfast and a mid-morning snack on Sunday. Kids and adults love our organic meals prepared by Ibu Kadek and her staff in our own traditional Balinese kitchen."  
After working with Nadya I have been sharing the Green School info with my hairstyling clients. I mentioned I was going to blog it - I had resounding requests to hold off my posting so they could get the jump start on booking the family camps.
Dear clients: I delayed this post. Hope you booked. ;)
Green School on Twitter
Nadya on Twitter (Ok, I have to go on about how gorgeous and soft her skin is. She obviously takes great care inside and out since we truly are what we eat. Nadya: share your skin secrets!!!)