Apparently the love for surprises begins early; though I do wonder if it is a learned behaviour? Zoie Jean sees me practically fall into the arms of the couriers when they deliver boxes of beauty wonder to our threshold. [maybe slightly exaggerated for dramatic effect]
Inside February's Vanity Trove
2 shades from the OPI Nicki Minaj Collection minis. Zoie has these in her possession now.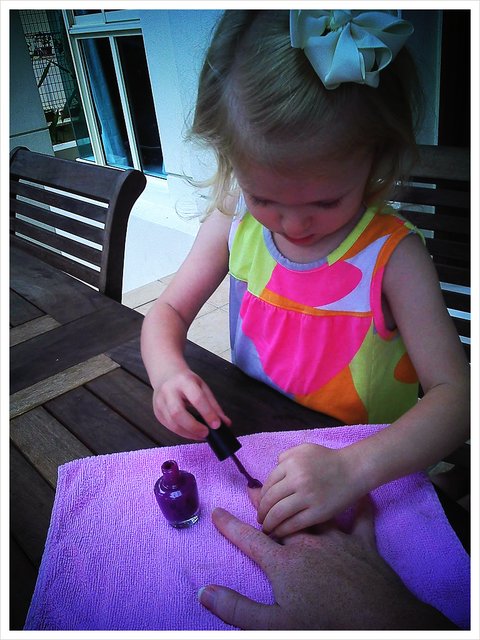 You may recall Zoie is an expert manicurist.
Filthy Farmgirl Handmade Soap helps you get clean before you get dirty. *wink* I LOVE the Filthy Valentine (cardamom rose) and the Cheeky Ginger Citrus (I don't have to tell you it's ginger citrus, right?)
Mekhalaliving Shampoo and Conditioner which contains black rice extract, an ingredient packed with anthocyanin antioxidants and Vitamin E, promote hair growth, improve blood circulation in the scalp, and protect hair from damage by oxidation.
SkinC Eye Mask everything I ever try from Skin Inc is a success! Place these in the fridge overnight and jump-start your morning routine with a triple tall dry cappuccino and an eye treatment! These eye masks are great for regular beauty maintenance as well as the morning after a night of indulgence. [Plus in my trove was a $50 gift voucher to use. I've had their facials before... I am thrilled to use this voucher towards that! Maybe I'll try the Oxy Miracle.]
Earrings by Rinsie Rose handmade jewelry where time and effort are key to create long-lasting wearable works of art.
Allerines Premium Tea or as Zoie said '???' ... Actually, I have no idea when she was saying in the video and normally I am fluent in preschooler.
When you register for a beauty subscription you know that it's coming but you don't know what gorgeous surprises are inside. Register for yours here and start receiving your Vanity Trove in March.
Did you know: a monthly membership is only $25!! That is such a fabulous deal considering you are already double that with a voucher. Check out last months Trove here.

Hey VT: You may want to consider a special edition Trove Jr then Zoie would keep her hands outta mine. ;)
In Singapore: Save the date to Celebrate International Women's Day with Vanity Trove, Reebonz and Skin Inc on March 8th. Like and watch Vanity Trove on Facebook for more details
*sponsored post