In December I went to Cambodia again to teach one of my beauty workshops with the
Riverkids Get Ready Girls program
.
I made time to visit The Killing Fields this time.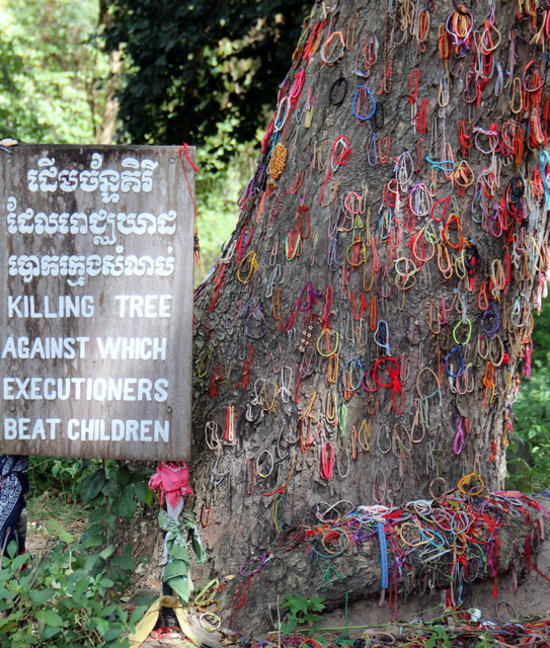 A killing tree to beat children to their death. I can't even...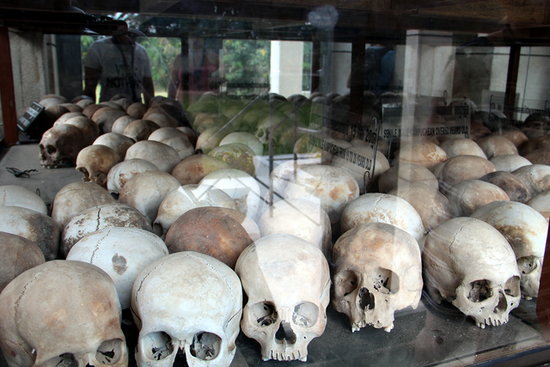 Victims' sculls sorted by ages and gender on display as a tribute and reminder to the many lives lost.
I watched The Killing Fields just prior to my third trip too. I am doing my best to educate myself on the history and current tone for the families in which i am trying to help.
I've been trying to reach out to others who are doing the same be it individuals or organizations. It's not as easy a task as I thought.
In my efforts of trying to network and meet people in Cambodia, either for insight or with similar intentions I was introduced to a man who owns many businesses there who was happy-ish to sit and chat with me about it all.
It was an interesting conversation that I had with this business owner in Cambodia, also foreigner to the country. With 11 years previous NGO experience he is, admittedly jaded. 
He expressed to me that although admirable, coming to Cambodia to teach to the youth at risk in the slums seems to be a waste of time. 
What are the intentions? What do I hope to achieve? Was it just a feel good project?
Great questions. Intentions - well, of course to provide an education to these girls to empower them. Give them hope and show that people do really care. Feel good project? That was not even in the cards for me. I knew that I wanted to dive further in from the beginning and with each trip I make, I feel more committed. As I've mentioned in previous posts - Riverkids and I want to start a beauty school.
He believes that it will take centuries to build a proper middle class which would be the answer to a better Cambodian economy. He added that although I have good intentions, he feels that myself and others doing similar projects are a waste of time.
So... What was he saying?! Give up? Why teach when this generation may not reap the benefits?
He criticized my sharing experiences and talking to people about how they can help. He believes it creates an added risk. If the global population hears that a blind eye is often turned away from crime in Cambodia then telling people attracts them. Which is why I've taken so long to write this blog post.
He also criticized the hair and makeup / massage industry. Said it becomes an added service to the list of services that some of the girls potentially offer already; that hair, makeup / massage industries are generally known for added services considering the intimacy of the service. I can say that in 23 years I have never added 'extra services'.
I shared our conversation with my husband who poked a very big hole in this man's theory: most of the clients are women and what I have set out to teach these Get Ready Girls doesn't include services for men. 
This businessman based in Phnom Penh also shared with me a story about somebody in Cambodia that runs a bar with a high prostitute rate and other illegal activities. A French film crew came in and apparently gave so much press to this guy trying to paint him as the pig that he is and instead of condemning him, it made him more popular now a tourist destination. Kind of reminds me of the ping-pong girls in Thailand -I have never seen that but sure have heard of it and know people that go and want to experience witnessing this kind of show - so maybe there is truth to his belief that sharing crime info attracts scumbags? What to do?
Do you then sweep everything under the carpet or do you actually try to help out? Isn't education the key to advance economies? 
Is he right that sharing information about crimes that take place in Cambodia are educating scumbags as to where you can go and do it? 
He says that there is a children's brothel in Cambodia and fears that sharing the information creates more of a demand; that the American way is to swoop in and remove the children but the problem with that is a new batch of children are abducted or bought to replace the ones who are 'saved'. 
Frankly, shutting it down and tossing the people running the place in jail should be what happens.
If we ignore the crimes against women and children, they won't go away. I am no expert. I don't have the answers. 
Year zero was 1979 for Cambodians. We are about to embark on 2014.
My most recent trip was in December. Melville Pepino and MAC Cosmetics sent products in support of education and training for the Get Ready Girls. 
As I have mentioned previously, the goal is to get a beauty school up and running in Phnom Penh. I have heard of one up and running in Siam Reap apparently started by a woman who was once in the sex trade in Cambodia. I am very interested in talking to her.
Educate. Empower. 
I had mentioned Kiva micro-financing to the Get Ready Girls as a goal that they can aspire to. I have tried to connect with Kiva to get more information. How do women who have little to zero ways of connecting over the Internet actually reach them?
According to the businessman I spoke with, he believes that a loan for schooling is better vs free college as it shows you who are the more serious students. They then feel more empowered without a simple handout. If I'm not mistaken, the country he is from offers free education including the university years... hm....
All I can say is being with these girls for a few days showing them an alternative career, having their families support their education, not financially but not selling them either - I see joy on their faces.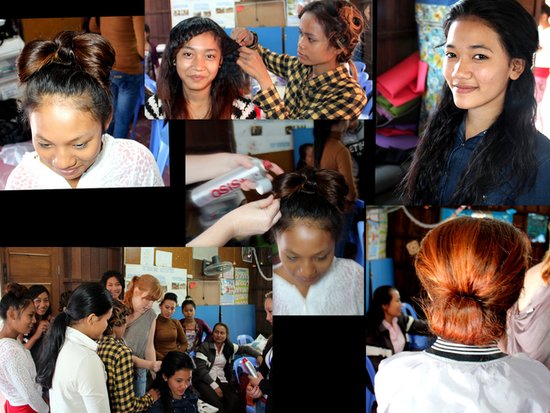 The girls rock at braiding so I was showing them various other updos, hot pin curl sets and cold sets.
I truly love these girls. A few of them had returned from my previous workshops as they do want to proceed with a hairstyling / makeup artist career.
If you are eager to help or have some input please don't hesitate to message me privately or in the comments below.
A pile of thank you letters from the girls along with hugs and tears.
I'm not done. My goal to have a beauty school is still very much alive.
And my thanks goes out to Blue Lime boutique hotel in Phnom Penh, MAC Cosmetics for your continued support and to Patrick Melville salon in New York!!
Read about my previous trips here.
Riverkids also teaches sewing. Read more here.