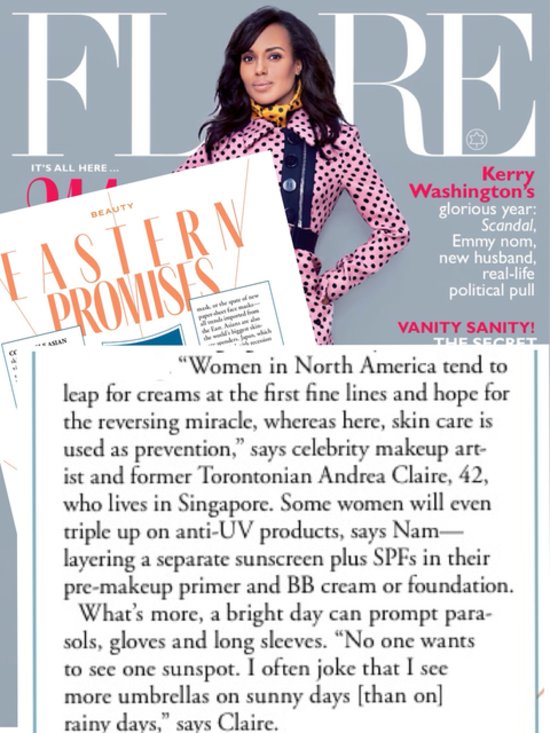 I remember the first time I saw my credit in Canada's FLARE magazine tagged to my hair & makeup work. I toted it around like a beauty trophy proud to share it around to anyone who would indulge me; that was 16 years ago. Some things never change.
Wing Sze Tang, writer and editor included me in her October story Eastern Promises for FLARE and since many of my answers had to be streamlined (I tend  to go on) I thought I would share my complete answers.
WST: Is it accurate to say that North American women prefer multi-duty products and simpler skincare routines, whereas women in Singapore (or Asia in general) prefer hyper-specific products and multi-step routines?
AC (me): Yes, in fact an example of this is BB creams. Women in North America have taken this on as a do-all when really it shouldn't take the place of your skincare.
Face wipes too! They are huge for women to skip washing their face properly back home. We have them in Asia but women here don't use them in place of cleansing.
WST: How did your own skincare routine change when you moved to Singapore? (Please briefly detail what steps/products you used to use in Toronto, and what you do currently.)

My Instagrammed #faceof42
AC: I have to say that I was on a multiple-step program already introduced to me by Dermalogica (circa Stylin Gypises 2004) double cleansing was already part of my beauty vocab followed by exfoiliant, toner, eye creams and moisturizer. But since moving here I have added serums and pre-serums.
WST: Was there anything that surprised you when you talked to other beauty industry pros in Asia about what they use/do for skincare? Any beauty "revelations"? (Feel free to describe specific anecdotes if you have any.)
AC: What surprises me the most are the injectables women get here and how early they start. I worked on a print ad where the model in her early 20s had pig fat injected into her upper cheek area - she said she had it done in Korea under the advice of a dermatologist there. Injectables (Botox is huge) are common here at a young age and people are surprised when I tell them I haven't had any... Yet...
Also - you may recall the viral video of the women slapping faces for lifting in Thailand? Well, I have had many facials in Singapore where the slapping isn't as violent but they apply serums with a subtle slapping motion. After living in Asia and seeing first-hand how Asia influences the rest of the [skincare] world I figure it's only a matter of time before that craze 'hits' the globe so I have been (subtly) slapping on my serums for a couple of years now. Hey - can't hurt!! ;)
WST: I've read that in certain parts of Asia, it's not unusual for women to use 14 or more skincare/beauty products throughout the day. Is this true? And what are the commonly followed steps (for day, and for night)? For example, I've heard of:
1) double cleansing (first oil cleanser, then foam cleanser)
4) layering serums plus emulsions, in addition to regular lotions or creams
5) putting on multiple SPFs (sunscreen + pre-makeup primer with SPF + BB/CC cream with SPF)
AC: Women are definitely into pre-cleansing with oil here which helps to breakdown pollutants and makeup before using your cleanser. There are the same options here of cleansing bars, cleansing milks, gel cleansers or foam cleansers etc... It is still about preference.
And yes, followed by masks, serums, moisturizers - targeting treatments are big here too - no one wants to see one sun spot of freckle. I often joke that I see more umbrellas on sunny days vs rainy days - not far from the truth. Women do take the steps they need to maintain a 'milky' complexion so in Singapore many women do invest and use separate sunscreens for the face vs a multitasking bb/cc etc.
I have heard that Chinese women here will save cooled water from rice to rinse their face as it has natural exfoliating and brightening qualities - interesting since SKII is based on rice water fermentation.
Skin Inc is a brand here that has many serums targeting specific needs which I love. It's not about generic skincare anymore. Bespoke your needs.
WST: Do you find that women in Asia are generally more obsessed with skincare compared to North Americans? Do they invest more in anti-aging skincare, or begin using them at an earlier age, than women in North America?
AC: Yes! Women in North America tend to leap for creams at the first signs of fine lines and hope for the reversing miracle cream whereas in Asia skincare is used as prevention and anti-aging.
WST: Are there any skincare practices or skincare products common in Asia that you would rarely or never see in North America?
AC: Whitening. It's huge. Sadly. Even the advertising here ignores the diverse colours of skin. Just because a woman's skin tone is darker than a level 2 or 3 doesn't mean she isn't beautiful. Many brands here - at least Singapore - don't carry darker shades of foundation. Yes, you can find them but not with all brands, even the counter artists oversell makeup that is too light. The obsession for skin that is light, free from 'spots' is not fading.
Also, carbon cleansers are creeping up. Do you have those yet? I believe they are geared to more acne prone / oily skin
WST: What other observations do you have about women's different attitudes and approaches to skincare in Asia vs. North America?
AC: Women in Singapore will try anything and everything that promises the fountain of youth. I think women in N.A are more skeptical and want to hear about it after the research and development teams have conclusive results - neither approach is wrong - although I can't say I will be injecting pig fat into my cheeks anytime soon...
Women are so obsessed here with looking perfect that there are a lot of iPhone apps that give you big eyes and clear skin. Check out Cymera that comes out of Korea (I believe?) - it's fun to give yourself 'big eyes'
**Get FLARE magazine in the app store
Yes, I am 42. le sigh And without Botox or any other outside help except a great skincare regimen which I am often asked about. This is what I use:
There are a few things missing from my skincare arsenal. My Dermalogica eye cream, Bio-Oil, Skin Inc placenta (don't worry - it's plant) and my Rodial Glamoxy Snake Serum... These need replenishing.
Are you looking for Botox?? I have sent many clients in Singapore here. I have heard nothing but rave reviews on this place. I made an appointment but cancelled 20 mins before my Botox because I just don't feel I need it right now... but I am really curious... Have you Botoxed and regretted it? Loved it? Recommend it? Do tell!!
**Read my interview on A Fashionable Leo for more of my favorite beauty products