Update: mention this post and my name at The Lifestyle Clinic and get 10% off!! That's a sweet deal! 
Taken by The Lifestyle Clinic staff in their office. From top and bottom left: the 'before', January 2014; top right and bottom middle: April 2014; bottom right: November 2014.
I cringe at the angles with no makeup or blasted light for complementary diffusion but one cannot deny the results! 
"Wow! I've seen her before she started with The Lifestyle Clinic treatments and she's looking really good now!"  
I choked on my Botox when I heard that one. LOLZ as the kids say. A hug and a slap - I love backhanded compliments from the socially awkward full of good intentions.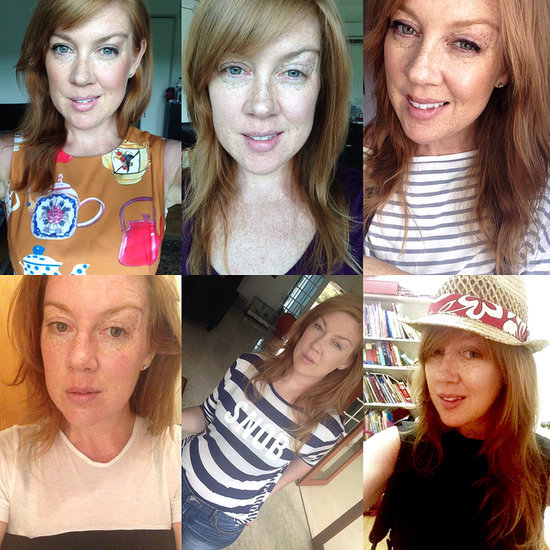 My montaged mug from July 2014-January 2015. You can check out my #faceof42 and #faceof43 Instagram pics, soon to become #faceof44! FML
Definitely there are things about my visage that I am thankful to Dr Komathy for:
The mesotherapy on my cheeks to reduce the pinchable. Serious difference. I'm vain and I've hated my cheeks - but they are a thing of the past now all thanks to Dr Komathy and her meso needles. Painless and bruise-less. FYI: some people do experience bruising. 
The Thermage I had a year ago, as you can see has given me awesome results. 
"Thermage is a proven radiofrequency treatment that transforms skin by working below the surface and addresses a wide range of surface imperfections that result from age and environmental factors. Benefits include the smoothing of wrinkly or uneven skin, better definition of facial features around the eyes, jaw and neckline, and even the smoothing and toning of unsightly bulges, dimples and wrinkles on the face and body. Thermage radiofrequency energy works with your body, remodeling your collagen to help your skin get that smooth feel and youthful look you want. Thermage treats targeted problem areas – so the results are focused and effective." Thermage.com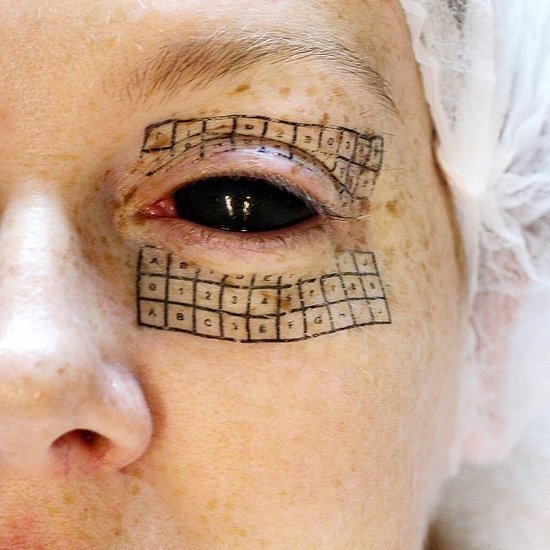 Ladies, you know that crepe-ing that happens to your eyeshadow? That's the result of lack of firmness on the eyelids; Thermage can help with that. In December 2014, I was offered to try Thermage** on my eyes. I'm approaching 44 (March 9th. Send gifts.), and while there's nothing wrong with that, I'm not ready for aging to win without a fight.
Thermage is a heated RF process that helps firm and lift with discomfort levels during the process being from different person to person. For me, it occasionally got too warm but this is what you need to vocalize with your doctor during the process as they control it. 
When you have Thermage done, while you do see results immediately, the process continues to firm up over 2-3 months post noninvasive procedure. I promise to do an eye recap in the upcoming weeks so you can be all judge-y for yourselves.
The price of vanity can be high, so if you can't afford Thermage or don't care so much about it, crepe-y-free eyeshadow can still be achieved. Eye primers or cream-to-powder finish shadows are your flawless friends.
Here are my go-to eye basing products:
Benefit creaseless cream eyeshadow $20.00 USD at Macy's  
This is my ABSOLUTE fave for any age and skin tone. If you don't own that, pause and order it. If they discontinue this I'm going to have to double up on my therapy sessions. #truestory
M·A·C 'Prep + Prime' 24-Hour Extend Eye Base $22.00 USD at Nordstrom is a colourless base. 
Maybelline Eye Studio Color Tattoo 24Hr Eyeshadow, Edgy Emerald $6.99 USD at <a target="_new" href="http://www.shopstyle.com/browse?fl=r163">drugstore.com
</a>Who doesn't love the cheap and cheerful that actually works?? Just like the Benefit Creaseless Cream Shadow, zero-creasing and crepe-ing with your makeup. Choosing a bold colour like this is also a nice base to a smokey eye or cat eye with an edge; just ask Lady Gaga.  
This is me with Zoie just yesterday. I'm on the left just in case you are unsure - antiaging isn't THAT good. 
**I have paid for most of my treatments. Thermage actually offered the eyes to me via The Lifestyle Clinic because they saw my Thermage post last year and wanted to give back to me for it. Um... THANKS Thermage!! Any time you want to give me an antiaging gift, I'll take it!!
 Do you live in Singapore and want a little of this? Call up and ask The Lifestyle Clinic for the 'Andrea Claire' special. *wink* There's no real special unless Dr K's office wants to offer one... Hey man, I just putting it out there for my readers. I'm doing this for you. :*
My list of what I've done there so she isn't breaking Dr/patient confidence if my name comes up:
Botox (minimal so you can't show a movie on my forehead)
Thermage (face and eyes, both just once)
Mesotherapy (not the miso soup)
Peels - I've had two types, my most recent being Blue Peel Radiance. I'll chat about that on my next beauty thesis. ;P 
<strong>
The Lifestyle Clinic</strong>
1 Orchard Boulevard, #16-03 Camden Medical Centre