On the left you see me fresh out of the shower; in fact, I am only wearing Dermalogica's Skin Smoothing Cream - literally. *wink*
On the right you see me after I had applied  Luview Whitening Capsule BB Cream under my eyes - amazing the difference already!

I love the English translation (it's a Korean brand): At the final stage of the skin care, take appropriate volume and apply for light pounding*. Makeup base and foundation are not required to use separately.<em>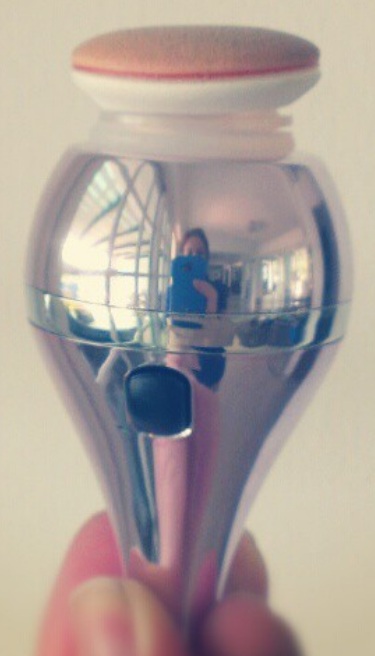 </em>
The light pounding is making a reference to the I.Myss Foudation Stamper that vibrates.<strong><em>

</em></strong>Next step was using Luview Crystal Cover BB Cream applied using the I.Myss for a light pounding... Really...
I made fun of this stamper when the press kit arrived- I do actually see the benefits - for the makeup aficionado the results are similar to a stippling brush only a little smoother. As a makeup artist I can't see this going into my kit as it's hard to clean the pad going face to face, and I'm a germaphobe. - but for personal use it's amazing!



That's it - the two products here. I didn't do anything with the lighting - the sun must have poked through the clouds this second... yes I was potentially flashing my boobs to neighbours at the window. It's ok - I have a penthouse - no one can see - nor would they want to.<em>
</em>I love the coverage of the products and it does not feel heavy at all - in fact I have seen an improvement in my skin's texture - it's smoother and brighter. The shades available are very limited so if you are darker than I am you are out of luck.




All dolled up and not so naked wearing Luview Whitening Capsule BB Cream, Luview Crystal Cover BB Cream, Naked Palette by Urban Decay , Luview Gleam Full Long Mascara, Warm Soul blush by MAC and a hint of Cameo Lip Glaze by FACE atelier.<em>
</em>The Luview mascara is like the Becca and Blinc's mascaras where they last 24 hours without flaking or smudging but come off with warm water. I am not a fan of this mascara type in general but if you are - you'll love it. I hate the way it comes off with water - I always feel like they tug on my lids.
<em>
*all photos are taken with my HTC One S filtered through Instagram using LoFi
</em>