The turkey neck waddle and the decolletage are areas that we have neglected over the years. Guess what? A neglected neckline reveals more than you want to share - your age! Sure - maybe you are face focused and looking youthful with your creams serums, boosters, fillers and the Botoxed Barbie extremes from the neck up but what about below the chin?
Have you learned nothing from Ally McBeal?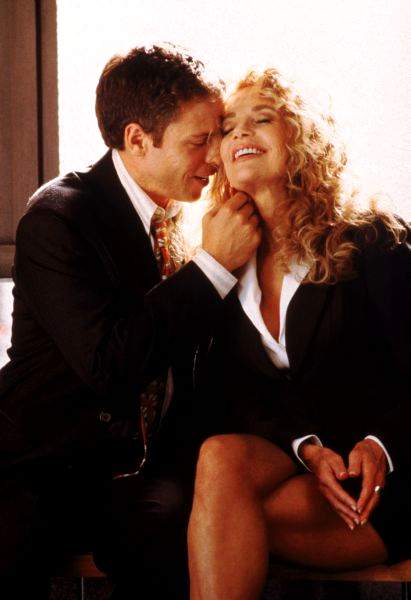 Judge Jennifer 'Whipper' Cone (Dyan Cannon) gets some turkey waddle love by Richard Fish (Greg Germann) as seen on Ally McBeal.
When you apply your face creams are you stopping at your jawline? Yes? Are you using a neck cream? hm...
Our skin needs to be treated with love and devotion.
You can't ignore the beauty industry's influence just like you can't ignore the fashion influence of cerulean blue.
We don't make the aging rules but you do need to learn them to win the fight against aging! Maintaining hydration and elasticity focusing on collagen rejuvenation as we age is key. Of course we think of prevention - suncreen and regular skincare habits and that should not be limited to our face.
As you age do you ever wake up with creases on your bust? I am not talking breasts - just above the top of your cleavage to your collarbone. Those creases in the morning are signs of dehydration and over time they will stay, deepen and sag. Do you look at an older relative wondering if your decolletage area will become leathery like theirs? Are you focusing on Aunt Bertha's neck waddle when you are chatting with her? Don't get her confused with your Holiday turkey.
Delaying the signs of aging can be done with proper care. Keeping your skin nourished with creams is proven to be effective. This is me. I am 41. I have had no work done and there is no Photoshopping here - yes, a little Instagramming - I have used creams all over for years. If I get lazy with my body / neck creams I notice the difference within a week on my decolletage. Lather up with lotions Ladies and metro-Gents!
You can get a jump-start on your waddle and extra chins with Exilis. [I may or may not be giving this a go elsewhere... stay tuned.] But no helping hand is efficient without upkeep. Never too late to start with your magic potions.
Radical Skincare Firming Neck Gel  $125.00 USD at Barneys New York
Experience an immediate lift and a smoother, brighter skin tone on your neck and décolleté with this unique antioxidant-rich creamy emulsion. Kelp Extract smoothes and Green Tea and Resveratrol fight aging free radicals. Antioxidant-rich Vitamin C and collagen-defending Sepilift help firm sagging neck tissue, while Soybean and Jojoba Oils provide high-performance hydration. 50ml
La Prairie Anti-Aging Neck Cream A Cellular Firming Complex  $225.00 USD at Bloomingdale's
Is your neck hinting at your age? The skin of the neck and chin ages differently from the skin of the face, and with aging, the chin may lose its youthful streamlined look. Scientists at La Prairie have developed a formula containing a complex designed to help re-contour the chin and neck area to a slimmer, firmer look. Other ingredients work to hydrate, smooth, and promote even skin tone. With regular use, the skin of the neck becomes silkier, smoother, and tighter. Benefits: Helps slim and re-shape the chin and neck area Boosts skin function to help restore density, firmness, elasticity and texture with a youth-restoring complex and an advanced peptide Renews skin hydration system to increase moisture retention Helps reduce age spots and promotes even skin tone through an anti-pigmentation complex The Application: Morning and evening. Using two hands and beginning at the bustline, stroke upward quickly toward neck and chin in rapid alternative strokes. Use more cream if necessary and apply to back of neck and upper shoulder area.
Perricone MD Perricone MD Firming Neck Therapy 2 oz (59 ml)  $98.00 USD at Beauty.com
The science to address specific skin concerns. Helps to firm, nourish and hydrate Minimizes appearance of deep lines and wrinkles. The first signs of age often appear in the neck area. This anti-glycation cream will help tone, tighten and form a barrier to increase the appearance of skin's overall elasticity and thickness. It nourishes and hydrates the skin to help minimize developing lines and wrinkles. It is odorless, non-greasy and non staining. Skin will appear more firm, smooth in texture and youthful. Made in USA
</p>