Seriously cool.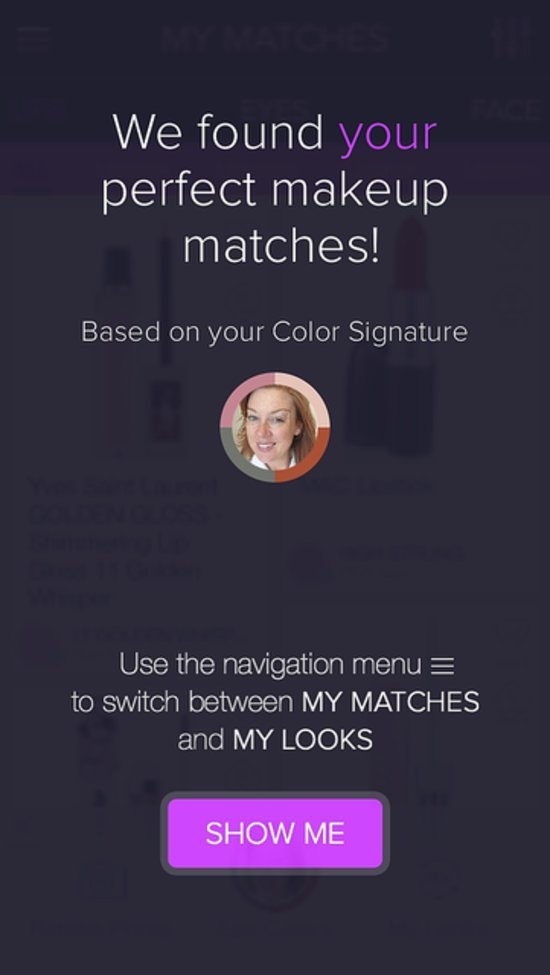 I gave up on the selfie option because it wasn't recognizing me as a redhead but then when I loaded from my camera roll...same thing... fluctuated from 'deep brown hair' to 'soft dark brown hair'... Not quite Plum Perfect for redheads but close! 
I look fresh and super chill because this was post having the facial goddess' hands on my face. 
Plum Perfect beauty app helps you find your perfect makeup for you by scanning your face Hollywood-style, colour matching and suggesting brands from luxury to money savers to give you a day, office and glam look. You can click and drag the circles to an area of your hair, face, eyes and lips for colour matching. If you have freckles try not to hover over a freckle otherwise you'll end up with foundation that's too dark.
My 'office' look looks like it holds a Mimi potential but the glam I adore; Ladies, it's all about the choice of blue hue. 
um... I guess nothing is really perfect.
I actually love most of the recommendations regardless of being told that I have brown hair. The MAC High Strung? Brill suggestion. 
PS - the Perfect Plum beauty app is FREE right now! Get it. You'll like it. Takes a lot of guessing out for those who need the help and offers suggestions for the junkie who just wants a new addition to their arsenal. 
<strong><a href="https://www.facebook.com/pages/Andrea-Claire-celebrity-hair-makeup-artisthost/117705241587123?ref=hl" target="_blank">Beauty Pro approved!
</a></strong>[don't worry, the Embrace Paris recapping will continue.]<strong><a href="https://www.facebook.com/pages/Andrea-Claire-celebrity-hair-makeup-artisthost/117705241587123?ref=hl" target="_blank">