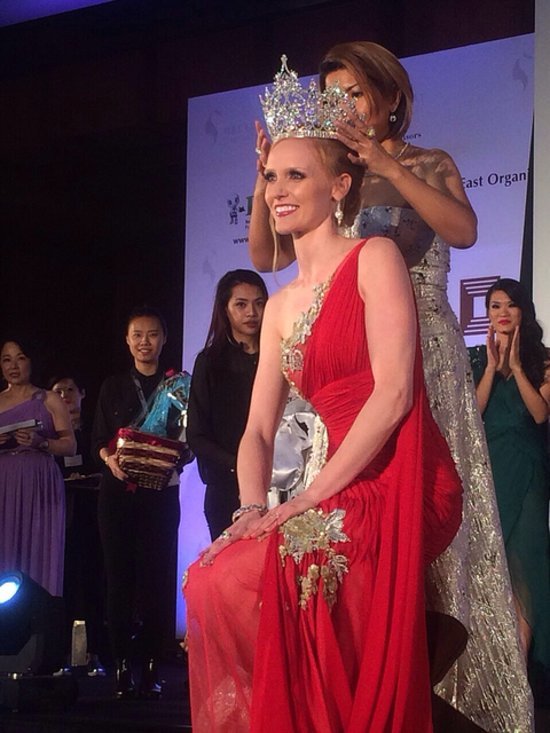 (this photo was sent to me via Katrina, all other photos of Katrina are mine taken with my Canon 600D)
Congratulations to Katrina Stehle for winning the Mrs Expat Singapore crown! 
Let me share with you her beauty crown & glory by me! (yes, stretching for a tie-in; you can deal)
Always start with great skincare; it makes your makeup apply effortlessly - but you need to take care with eye creams; if they're too emollient then they may cause your makeup to slide and travel.
Dermalogica is my preferred skincare and a staple in my kit.
The eye cream to own:  Dermalogica Multivitamin Power Firm 0.5 Fl Oz $50.00 USD at <a target="_new" href="http://www.shopstyle.com/browse?fl=r849&pid=popsugar&pdata=354512&pid=popsugar&pdata=354512&pid=popsugar&pdata=354512&pid=popsugar&pdata=354512">Amazon.com
</a>
Whether an expat wife or a 17 year old model in my chair you can expect this luxurious moisturizer to be applied: Dermalogica Skin Smoothing Cream $41.00 USD at <a target="_new" href="http://www.shopstyle.com/browse?fl=r1&pid=popsugar&pdata=354512&pid=popsugar&pdata=35451201&pid=popsugar&pdata=354512&pid=popsugar&pdata=354512&pid=popsugar&pdata=354512&pid=popsugar&pdata=354512&pid=popsugar&pdata=354512&pid=popsugar&pdata=354512">Ulta
</a>
Primers are tres importante for beauty queens. I love the NARS Light Optimizing Primer SPF 15 $34.00 USD as it helps create the lit from within, perfect skin appeal
Giorgio Armani Maestro Fusion Makeup, 30mL $64.00 USD at Neiman Marcus
Armani Maestro Fusion Compact Foundation $64.00 at Barneys New York - yes, I used two Giorgio Armani foundations. Different coverages for different needs and that's all you need to know. 
For those of us Pretty in Pink, L'Oréal Visible Lift Blur Blush in Soft Pink $12.99 USD at Ulta - similar to FACEatelier's Facade, it's mousse-like application is sheer and gorgeous.  
For perfect highlighting and contouring this is a MUST. Just pause and order this now: Charlotte Tilbury Filmstar Bronze & Glow, 16g $65.00 at NET-A-PORTER.COM - question though: I haven't had the opportunity to try this on darker skin tones... anyone? Feed back? I find it's great up to level 7, but that's as far as I've gotten. (reference: level 1 is Casper level) 
I applied Maybelline Eye Studio Color Tattoo Eyeshadow Painted Purple onto Katrina's mid-lid to start, not totally obvious but it does help her eyes pop;$6.99 USD at Walgreens
I applied colours from Bobbi Brown 'Scotch on the Rocks – Warm Glow' Eyeshadow Palette (Limited Edition) $75.00 USD at Nordstrom along with a hint of tight-lining using the LWGL in Black Scotch.
on Katrina's lips I used MAC Cosmetics Private Party (satin) &?, layered with NARS Lip Gloss in Sixties Fan (not shown) $26.00 USD at Nordstrom
Ardell Natural Lash - Black 110 $3.99 USD at Ulta
Top Shop False Lash mascara - yes! I LOVE this mascara!!
I used Ardell Brow Set in Clear to add slight definition with the brows. I didn't want a 'here comes Julie's brows' look because, well, she's Katrina... and I'm not a fan of drag queen brows on women, especially when you have on false lashes - you don't want to hit the beauty point of no return as a woman! 
Our first 'do I set on a Parlux med-size barrel tong after blowing out Katrina's hair with Original Mineral's Rootalicious and bed-dazzled (tousled) it with Aveda's Pure Abundance powder (must have!!) and then held it in place with Original Mineral Original Queenie.
As I was finalizing her coiffe, some random dude came over and said 'Do this!' and started to 'scrunch' her hair. <strong>*horrified face*
</strong>No, I did NOT beat him with my hairspray can... I really can't stand when people who don't do hair do shiz like that... So, ladies (and guys) don't do that - it can actually create frizziness and squash your set. I'm not really sure what he thought he was trying to accomplish and after doing hair & makeup for 25 years, I don't need help from a random... I can't even...
Girl, you werk that updo! 
Katrina and I have very similar colouring but (I do many skintones and types cuz I'm a pro like that) I just can't pull off a red dress like she can. This updo I do'ed in 15 mins... ok, maybe 20. Pressure was on! She hadn't won yet! I left shortly after I did the 'do since I had been shooting an editorial all day before heading to Marina Bay Sands. and got a lovely text from Katrina, I bet minutes after she was crowned:
<em>"Thanks so much for the amazing hair. makeup, support and confidence"
</em>Clearly a confident woman but super classy and confident to express appreciation. 
:) Anytime Katrina!! It was great fun!