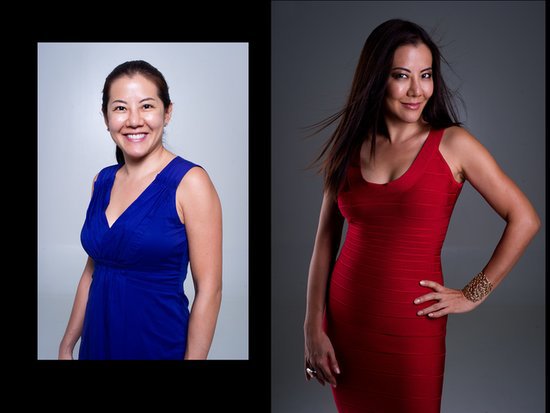 BAM! Come hither...
Good Morning this Monday Makeover Day! The day after Mother's Day; and how fitting - we have Teresa, mother of one who has gone from frumpy housewife to MILF. No, she was never frumpy, nor is she a housewife; we were all just joking around.
Teresa Woo is the founder of Sky Pilates.
Watch the transformation and our cheeky selves in the video below.
[If you don't see the video here, please refresh the post title to load it]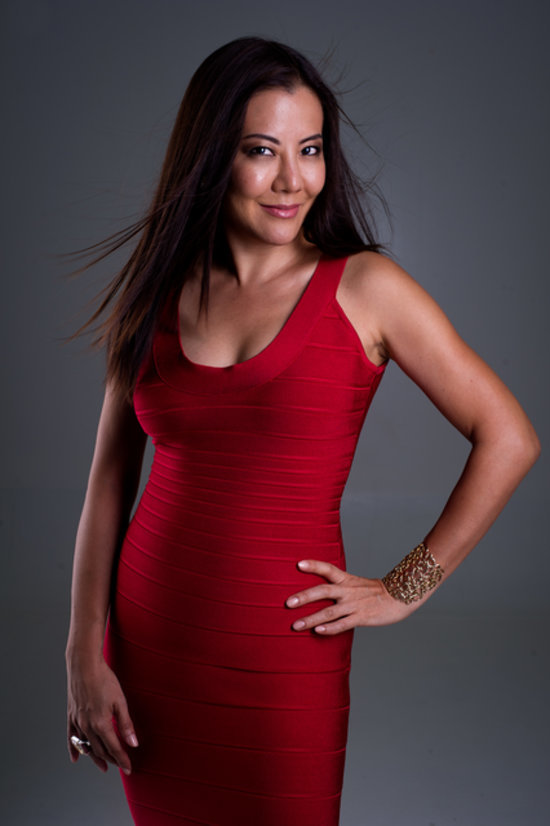 A little repeat cuz she looks AMAZING! No Photoshop ladies!
The beauty breakdown: 
As always, the Andrea Claire broken record: I started with  Dermalogica Skin Smoothing Cream $41.00 USD by Dermalogica at Ulta
Choosing a primer with some light reflective pigments diffuses fine lines and other skin imperfections. I used NARS Light Optimizing Primer Broad Spectrum SPF 15 $34.00 USD at Barneys New York
The new NARS Matte Multiple Multi-Use Colour can be used for Lips & Cheeks $39.00 USD at Neiman Marcus. I also love the neutral shades for sculpting. Just swipe directly to areas like your cheek hollows and blend with foundation. I like to apply these along with foundation when sculpting, not as a separate step - this ensures that you don't end up using too many layers of makeup. Say no to cake face.
Bobbi Brown Skin Foundation Stick $44.00 USD at Neiman Marcus is available in 24 shades. The updated formulation is seamless and weightless giving you that perfect skin appearance. I LOVE this new formulation.
I prefer to apply the Bobbi Brown Pot Rouge $26.00 USD at Neiman Marcus along with the foundation and multiple stick prior to any finishing/setting powder. Simple makeup rule: APPLY LIKE TEXTURES TOGETHER. Sorry for shouting but sometimes you ladies need to be yelled at. I'm talking to YOU pink-frosty lipstick wearers, it's way past the time for an update!
My favourite matte multi and pot rouge combo tends to be: NARS ALTAI with Bobbi Brown Powder Pink; the same combo that I used here on Teresa. 
Pearl, mica and Zinc adds to this oil-free Mineral Finishing Powder by Laura Mercier, $34.00 USD at Neiman Marcus. Because of the zinc, it does have a natural SPF but don't let that replace your regular SPF. A favourite of my friend and ex-assistant cum fellow artist, Dee Daly who shared this with me, knowing how little I like powders. Thanks Dee! LOVE this stuff!
Another Andrea Claire broken record beauty staple: Benefit Cosmetics Creaseless Cream Shadow $20.00 USD at Ulta. I use and tell everyone to get Birthday Suit (colour not as shown); a champagne hue that suits everyone.
I used the top right colour from the NARSissist Eyeshadow Palette 1 ea on Teresa's eyeshadow cocktail. Get this limited edition palette while (and if) you still can!
Also in the cocktail is Tom Ford Beauty Eye Color Quad, Orchid Haze $78.00 USD at Neiman Marcus. If you like eyeshadow, you need to own Tom Ford's. I have about six. They are lush and easy to blend. See Orchid Haze on another eye that I did here.
I used Bobbi Brown Long-Wear Eye Pencil in Mahogany at the lash line and in the waterline. These pencils are Bobbi's gel liners now in pencil form and a must-have. Her gel liners are on my fave list.
SEPHORA COLLECTION Upside Down Mascara $22.00 USD at Sephora - the CRAZIEST looking mascara wand to date, but I love it. The wand ensures coverage all around the lashes. I do find this formulation a little tar-y and cake-y so keep your Tweezerman iLashComb handy.
Bobbi Brown Lip Liner in Pink Mauve $22.00 USD at Neiman Marcus
Another you have to have it, NARS Lip Lacquer in Chelsea Girls, $25.00 USD at Saks Fifth Avenue. These NARS lip lacquers are a must.
Kicking it old skool with Teresa's hair, I dug out my Velcro rollers. They are great for movement with the hair. I prefer to flat iron hair first, which helps to smooth the cuticle. I show you the proper way in the video above.
GHD Gold Professional 1" Styler - US 2-pin plug $225.00 USD at <a href="http://www.shopstyle.com/browse?fl=r27&pid=popsugar&pdata=354512" target="_new">NET-A-PORTER.COM
</a>
Conair® Think Big® Self Grip Velcro Rollers - 9 Count $8.99 USD at Target
Finish the hair with a spray of Original & Mineral Original Queenie hair spray. Andrea Claire's broken record beauty must-have. It has old skool hold without the old skool flakes and build-up.
Concept, direction, editing and copyright by Andrea Claire.
Camera operators: Zurina, Diana and Andrea. Andrea typically provides the soft focus, but she's working on that!
Why #azMondayMakeover? Our industry does have an element of fantasy, especially when we are using 17-21 year old models in campaigns targeting the 30+. I will never stop participating in the fantasy side of fashion and beauty but reality isn't so bad either.
Want to participate? Anyone can as long as you are in Singapore. Email me, Andrea Claire with #azMondayMakeover in the subject line. Please also attach a recent photo yourself.
xo
Andrea Claire