As a hair & makeup artist who's been working for... a looooong time, it's been challenging for me to do nothing post-surgery; doctor's orders - no work for two months! URGH How to keep one, as my mother says: 'busy & amused?' By playing with my beauty kits of course!!!  
Today I bring you: the Diamond Lipstick Application. Ta-Da! [no applause please, just throw money!]
I started with Trust in Red  M·A·C 'Pro Longwear' Lip Pencil $20.00 USD at Nordstrom.
Make an 'X' on the lip bow, and a 'V' on the lower lip leaving you with a diamond shape in the middle; continue with outlining your lip.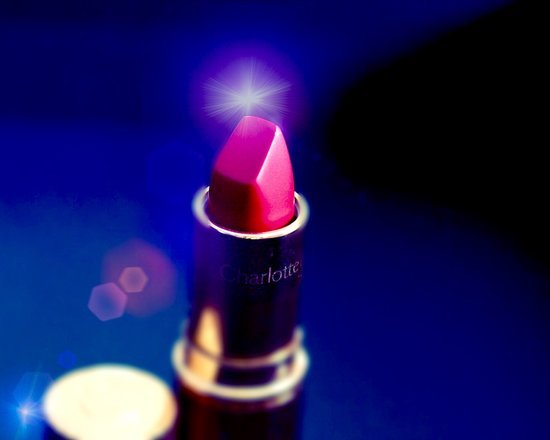 The star of this lip show is Charlotte Tilbury Red Carpet Red. Apply on outside the diamond cut-out. The awesome thing about the CT's lippy is the tube shape - if you aren't a fan of lip brushes, you can apply directly from the tube with ease and precision. 
The inner diamond shape I filled in with Tom Ford Beauty Lip Color, Flamingo $50.00 USD at <a target="_new" href="http://www.shopstyle.com/browse?fl=r6&pid=popsugar&pdata=354512&pid=popsugar&pdata=354512&pid=popsugar&pdata=354512">Neiman Marcus
</a>
As a final touch, I added a highlighter to the upper line of the lip bow and also, just below the lower lip line. Roll a cotton bud along the line for a soft blend. Try Mally Beauty Mally Lip Defender Clear Magnifier and Highlighter Duo $29.00 USD at QVC
*I know that from when we were all little girls mimicking our mothers (and some fathers), the habit of pressing and wiggling our lips together with fresh lipstick is hard to resist; but please try to resist. Not only will you muddy the colours together but this can cause your lipstick to travel and bleed outside the line. 
Give this lip a go and feel free to tag me on Instagram so I can see your version; whether a makeup artist doing this on a model or doing it on yourself!