I've been somewhat
chillin at home post-surgery
; I had a labrum tear fixed in my right hip. </p>
Being told to sit on the couch and relax for 2-3 weeks is like torture for me. I've started this little post-surgical vay-cay by cleansing my condo; ridding it of trash and demons. Long overdue.
Done.
<p>Now what?
I've been considering fighting the aging process with a little help from injectables for a while now. A common topic of course in my industry but also amongst my private clients who see me to get their hair done. I have to say, I had preconceived notions about Botox, fillers etc all based on Hollywood. </p> <p>I have no desire to look like the notorious cat lady, nor do I care to own Nicole Kidman's forehead; plus there are many stereo typical ladies who lunch here in Singapore who aren't capable of revealing their emotions with simple facial expressions. But, after many conversations with clients who have revealed that yes, in fact they have had Botox or fillers done - well, I was a bit surprised at my own naïveté leading me to believe that Botox = crazy face. 
My Botox trepidation reminds me of my mother who said to me when I was in labour with my first daughter (Sage) : "Don't be a hero; if you want pain relief, take it."
Proudly,  I never did. Popped that baby right out as well as her sisters, all sans doping. *pounds chest*
But aging, that's something different. 
I have been lucky that my genes allow me to age extremely gracefully, I'm sure my freckles help too - often mistaken for being years to a decade younger than I am. 
So why jump on the Botox bandwagon? I have often counseled clients who have asked me if they should get it done by responding with:</p> <p> Don't get things done for others. Get tweaks and enhancements done because YOU want them.
So yes. I look young for my age but lately when I've been putting on my makeup, time is fleeting; I see more fine lines developing around my eyes. Duh, I am 42 but those fine lines slowly turn to crevices and that's NOT ok with me, for me. This is not me telling you, my reader, if you have fine lines go get Botox; this is me saying it is a case by case basis and how you feel about you. 
I went to the dermatologist whom one of my clients swore by,
Dr Komathy Rajaratnam
. I've been recommending her to clients for years and they've all been über happy but I've never ventured in.
Walking into her office she smiles with eye contact "So what brings you here to see me today?"
Fine lines, and they are not crossed. 
She listens as I tell her about my apprehension. I have been proud of my slow aging process.
I am a religious Dermalogica user
. She does acknowledge that for my age and skin tone I am doing remarkably well and actually do look ten years younger than my age. I could hug her.
I tell her that the fine lines appearing around my eyes are seeming to be rapidly increasing, heavy eyelids run in my family, which I am starting to see signs of and my jowls,  I am not happy with. Again, this is for me and how I feel. 
I told her that I am not interested in looking overly injected and that I do want people to see that I can express emotion. 
The doctor examines me more closely and says that it's perfect timing, getting something done just as the signs of aging start - at 42!  She suggests a total of 16 units of Botox that would go around my eyes and slightly across my forehead and some Thermage on my face. </p> <p>
So moving forward - I commit to clinging on to my youth. [video above - if you don't see it please refresh the post title]
Starting with
Thermage </p> <p>
Thermage treatments are all about energy – focusing radiofrequency energy to kick start the body's own natural renewal process. Like most smart technologies, the process is relatively simple – it's a combination of heat energy to treat deep tissue, and cooling effects, to protect the skin surface and deliver better patient comfort. And our latest evolution of Thermage includes patented Comfort Pulse Technology – gentle vibrations and interspersed cooling that make your Thermage treatment even more comfortable. Even so, it's important to remember every patient's circumstances are different, so for specifics, it's best to consult your Thermage physician. Thermage.com

My face is cleansed and prepped to begin the Thermage. </p> <p>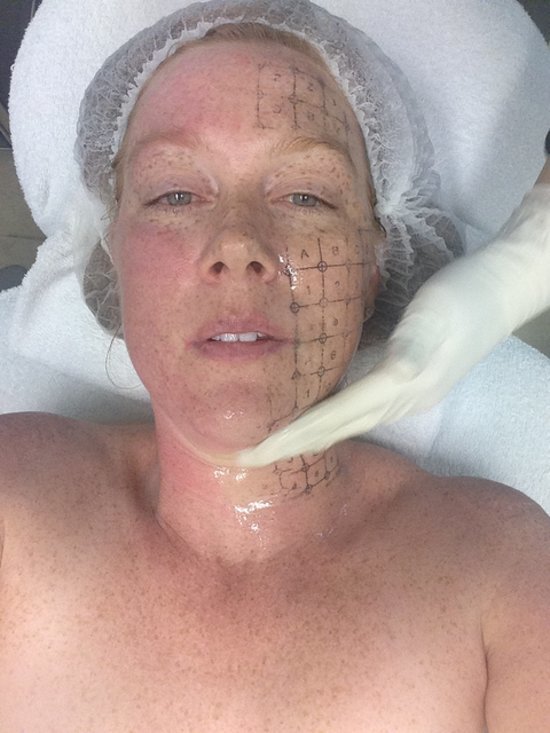 Thermage works by stimulating the collagen cells with radio frequency for reproduction, lifting, firming and melting some of your fat away. 
At times it is mildly hot and painful. The doctor expresses that my tolerance is higher than the average - a trait of us redheads. It is key to tell the doctor when it's feeling too hot so she can turn it down. She gave me a pain scale of 1-5 and told me to vocalize when I'm leaving a 3; you can get burnt.</p> <p>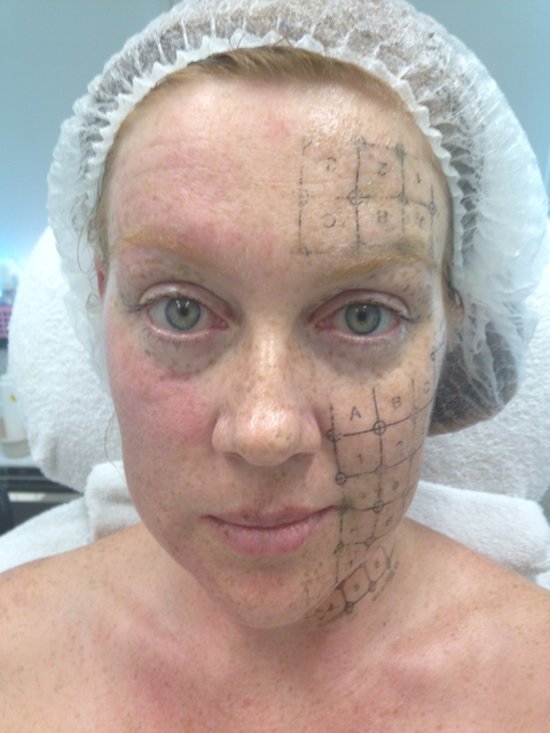 Seeing one side done, you immediately see the difference.  I have gotten
RF facials regularly at Qi Mantra
where the results are less dramatic but you can see them. The difference is Thermage results will last 2 years vs an RF facial where results last 2 months at best. 
Next up: Botox. You can see me get injected in the video earlier on in this post.
Seriously. What took me so long?!? 
I kid. 
I have booked appointments with the Lifestyle Clinic and then cancelled last minute, but this time I was truly ready. 
I am thrilled with the results and stare at myself in the mirror frequently raising my eyebrows and crinkling my face to see the results. I am not frozen in surprise, I am freshened and relaxed looking. Lord knows I could use a little relaxing.
Just enough. I tended to have a slightly lazy right eye too which I believe now looks to be more open and balanced.
I have heard from many clients that Botox can hurt or feel like a bee sting. Dr Komathy had applied numbing cream - I never felt a thing. </p>
<p>Granted the before (left) is slightly different lighting-wise but... Behold! Youth restored! 
The marionette lines are diminished immediately and apparently Thermage continues to accumulate results 2-3 months post-treatment. Things are definitely looking up.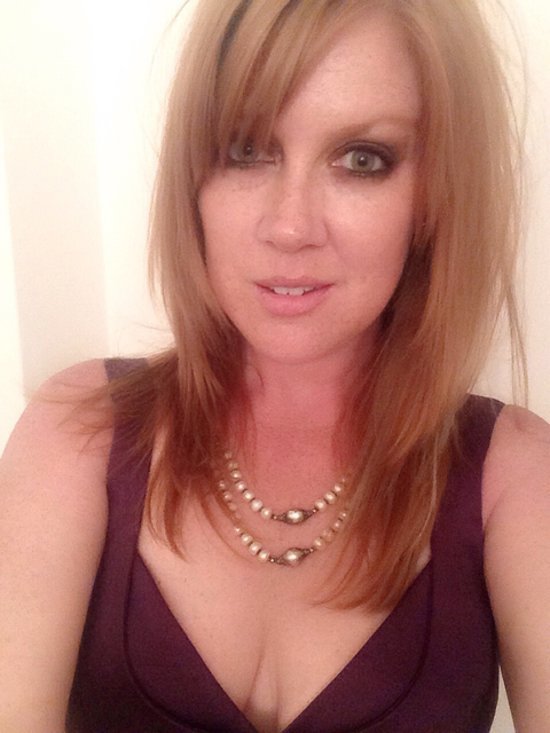 Yes. I succumbed to Botox. And Thermage. I think I can deal.