photo of the entrance at Blue Lime hotel in Phnom Penh
It's been a while since I've made it to Cambodia. Having two surgeries earlier this year had set me back a little.
Recently I returned to Singapore from my forth trip with the Riverkids Project teaching the Get Ready Girls. The ages for enrollment into the GRG are 11-21. [There is a Get Ready Boys program that I am not involved in; accepted ages are 14 to 21]
If you are new to this information, the Get Ready programs are 6 month programs offered to high risk youth in the slums of Phnom Penh, prepping them for continued education and work opportunities. 
Once completed their 6 month program, only girls aged 15 and over can continue to other educational programs. NGOs like Hagar International or Friends International. Sadly, the high risk girls ages 11-14 are at a continued risk, working as garbage collectors, child labour and even sold into the sex trades. 
We need to somehow continue educational programs. But how?? Every time I go to Cambodia I learn more about life there. And what I know and what I contribute is such a minute drop in the bucket of what is needed. 
'The stronger the roots, the higher the reach'! This saying was on the back of a T-shirt that I saw a guy wearing on a scooter in Phnom Penh. How true. The importance of education is clear for growth and development. 
Sadly, one of the girls is being pulled from the Get Ready Girls program, one month into the six month program. Even though she is housed by Riverkids and given a living allowance; her mother lives in a rural area hours from Phnom Penh and has asked for her daughter to return - even with the pleading from the school and organization, but the young girl of 15 wants to go back to her mother too. Riverkids of course does not hold anyone who doesn't want to be there - it is a choice. They are working with a counselor to express the importance of education and her safety. There's more. There is NOTHING for this 15 year old girl to do in rural Cambodia; no education or real opportunities where her mother is. Her mother remarried so she also has abuse risks with her stepfather - most common being sexual, but physical as well.
---
As a group, we talked about goals and focus. Keeping your eye on the prize; aiming for what you want. One of the girls joked that her goal was to do charcoal delivery. Later that day, in my tuk tuk, I passed a charcoal delivery truck... Now I get the reference. I'm glad she was joking. 
I know of one person who criticized what I'm doing there; I'm sure there's more. Haters gonna hate. She expressed that teaching the girls hair and makeup gives them opportunity to turn tricks with male clients since they go hand and hand... [Um...? As a hairstylist, I give blow dries, not blow jobs.] And,  well, if they do, so be it; but, the hairstyles and makeup that I'm teaching them is for female clients so if they have male clients looking for the updos and makeup that they're learning from me, there should be no risk of that. And I also argue - the 'foreigners' that come to Phnom Penh for sex will pay more for a girl who speaks English - should we not teach them English because of that risk? Stupid people: sit down. You don't get to answer that. 
Four of the girls that I have taught have made their way into beauty. One GRG graduate is working at a salon while two others are doing further hairstyling training with Friends International and another is training to become a manicurist. 
I heard that another one of the girls I had taught was in the process of having her virginity sold by her mother to a Chinese man for $1000+ in US dollars. She leapt out of the car and got herself to Riverkids who protected her. From being enrolled in the Get Ready Girls program she now understands her worth, rights and has goals of a brighter future for herself.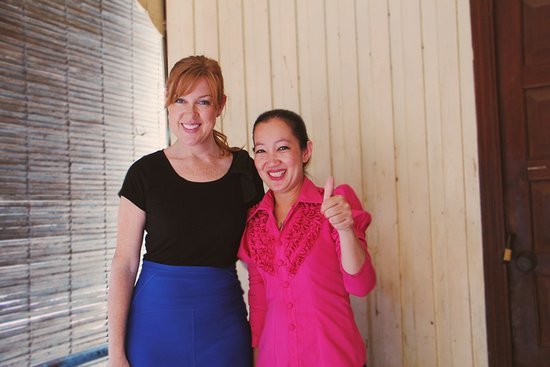 Me with one of the Riverkids teachers who always translates for me.
Sadly, the Get Ready Girls program can't move the girls to another program if they are under 15. The 6 month program pays the family an allowance during their enrollment in the program but other NGO training programs don't start until they are 15. So what happens to these high risk girls from 11-14? They need to get a paid for education or work. Child labour is a thing in Cambodia and families need money; it becomes about food or no food. Obviously surviving is not a negotiation. The girls work in garbage collection, factories and... Sigh... 
I don't know if the girls understand how hard it is for me to leave and it gets harder with every trip.
On my last day of this workshop I left with a speech addressing the group. We aren't to treat any of the girls differently but I wanted to plead with the girl who is being pulled by her mother, but also willingly pulled. So I addressed the class: "You are all worth it. You are worth an education. You can say no to situations and people that don't make you feel good and yes - that means no to some family members too."
I'm not a counselor and I try not to cross over where my knowledge is limited, but I was speaking as a woman, as a mother and someone who cares; from my heart.
I explained that I know that our lives and lifestyles are different. But I do know that living away from your mother is tough. My mother is a 27 hour trip away via 2 flights. But I took a risk getting married and moving away from family to Asia. Yes, Singapore is vastly different than the slums of Cambodia but it's still very much a man's world. I have been told on occasion in Singapore that 'they' need to call my husband for permission of various simple things. My husband argues that it's because he is the employment pass holder and I'm a dependent. But, I counter: I have a client, female, with an employment pass, her husband the dependent- they still do this to her 'ok, if we can just verify your husband's permission...' 
Men are treated differently than women, still to this day. It's nothing new, although I'm more aware of it at 43 than I was at 23. 
I told the girls: please know that you are worth it! I am honoured and privileged that you share your time with me and allow me to share what I know with you. It doesn't matter if you don't become a hair and makeup artist. Choose a job in a kitchen, a hotel, an office. Whatever you decide let it be YOUR decision and just get there. Because YOU are worth it. 
[tears were starting at this point with all of the girls... And me]
Funny, to be in beauty and essentially borrow from L'Oreal's tag line. But we as women deserve more than the right shade of lipstick. We deserve safety. We deserve love. We deserve an education. And it is our right not to be sold to the highest bidder. Our daughters and sisters should not live in fear that their safety and virginity has a price.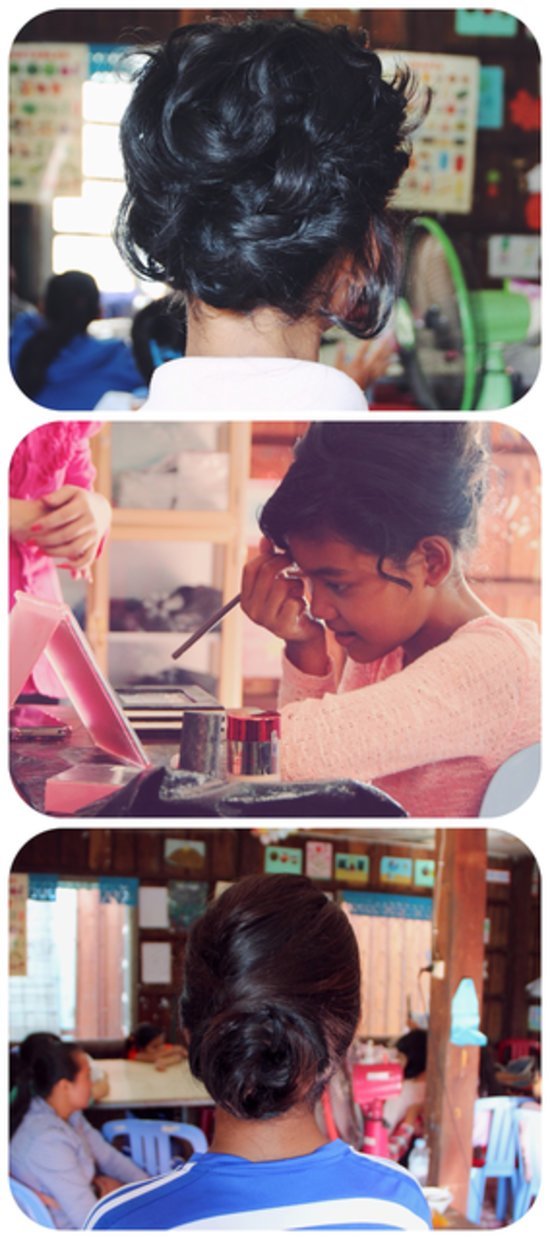 Some hairstyles that I've taught the girls and of course, their hands-on free time. 
Please donate to Riverkids or any other organization that is fighting against human trafficking. Lend your skills and expertise as I do. If you want to help fund a beauty school please get in touch with me or comment on your donation to Riverkids that it's for the Andrea Claire / Riverkids Beauty School! Eye on the prize!! That's our goal!
And please, be a responsible tourist! 
Thank you.
Andrea Claire
*All photos are mine and used with permission
*special thanks to MAC Cosmetics, as always, I'm for the generous support. 
*Blue Lime Hotel for always being accommodating with my last minute requests 
*SilkAir for the added luggage allowance so I could bring clothes for the children (that I didn't manage to take full advantage of!! :( Next time!!) 
*Note: my air, hotel and meals are not sponsored. I do this completely out of my own pocket and from my own heart.
Please read my previous experiences here. 
Side note: Fear tends to hold people back. For example,  I'm not a fan of traveling by myself and I've been lucky to have had both of my elder daughters come on separate trips to Phnom Penh with me to help; an eye opening experience for them, for sure. My friend Faz came once as well.
My first experience, my eldest and I got the WORST food poisoning from Raffles Hotel. Confirmed that for me by the emergency clinic where I spent a day on iv that it was the Raffles burger. No compensation from Raffles at all! For shame. 
Then, my second trip I stayed at The Pavilion with my friend Faz. Entertaining as she is as she downed a tarantula at Romdeng, all for beauty. The Pavilion and Blue Lime share the same owners - I highly recommend them both for your Phnom Penh stay. 
Thank you for spending your time reading my blog post.