You may remember that my daughter Sage and her friend Vivien made an appearance on my blog when they went to prom and suckered me into dolling them up then. Well, congratulations to them both! They have made it through the year a) remaining friends and b) graduating high school!!!
And as with prom, Sage and Vivien took advantage of me again to get them ready for their grad photos.
Dear All Young Ladies: Keep in mind these photos are forever and mainly for your parents to celebrate the inevitable; you're moving out!!! You are not going clubbing so keep your makeup simple and clean.

First in my hot seat: Vivien.
Vivien uses Proactiv on a regular basis which has left her skin very dehydrated. I based her skin with Dermalogica's Skin Smoothing Cream and Multivitamin PowerFirm under the eyes. I advised Vivien that she needs to exfoliate and take care of her skin. Overly dehydrated skin will show aging prematurely; it is important to Age Smart. If you don't exfoliate regularly your skin will look dull and makeup won't apply as smoothly as it could.
Makeup on Vivien:
Dermalogica's Treatment Foundation in 1G layered with FACEatelier #4.
High Definition Liquid Concealer $20.00 at Smashbox
NARS Bronzing Powder, Casino $34.00 by NARS at Beauty.com
M·A·C Powder Blush in The Perfect Cheek (not as shown) $20.00 by M·A·C at Bloomingdale's
Benefit Creaseless Cream Shadow/Liner $19.00 by Benefit at Bloomingdale's I know, quelle surprise - I use it all the time.
RMK Ingenious Natural Eyes in #7

I layered two mascaras:
L'Oreal Double Extend Beauty Tubes $8.99 by L'Oreal at Target
Revlon Grow Luscious Plumping Waterproof Mascara $7.99 by Revlon at Ulta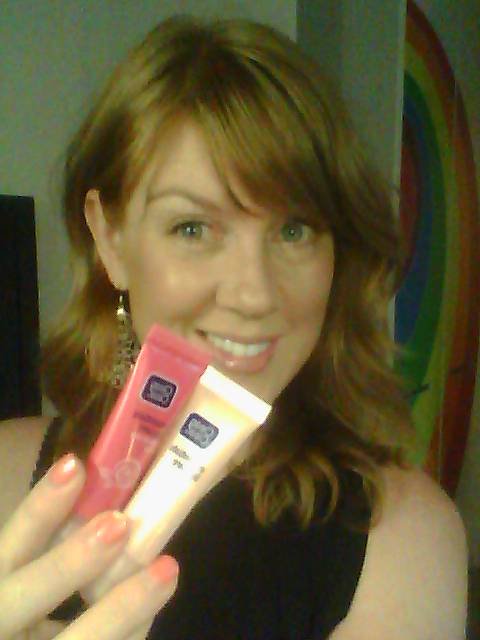 Sage's skin is smooth because she steals my Dermalogica on a regular basis when she runs out of her own. I based her with Dermalogica's Active Moist and Multivitamin PowerFirm.
Makeup on Sage:
Bobbi Brown's new BB Cream in Light

For Sage's massive dark circles Armani Beauty Master Corrector-2 $36.00 by Armani at Barneys New York
NARS Bronzing Powder, Casino 34.00 by NARS at Beauty.com layered with
Bobbi Brown Shimmer Brick - Pink Quartz $39.00 by Bobbi Brown at Sephora
Urban Decay Naked Palette $50.00 by Urban Decay at Macy's
I gave Sage the same mascara and lip combo.
School Photo Tips:
Don't over-do it. You aren't clubbing. [ I know I said this earlier so I'm just driving the point home]
Check your teeth, inner eyes for goop, comb your eyebrows and tame flyaway hairs
Look for your light - the photographer will guide you but keeping in mind, the soft box of light will have diffusing effect on your skin, an added benefit to hide imperfections.
Powder your t-zone only as the glow to your skin is pretty.
Now go get a job or a UNI degree!